Kymelya Sari
Sakela dance rehearsal at the Old North End Community Center
For the past three years since he resettled in Vermont in 2014, Harka Rai was unable to perform ceremonial rituals to celebrate Ubhauli Sakela. On that day, members of the Kirat Rai community ask Mother Nature for healthy crops and protection from natural calamities.
Last week, the octogenarian was at the Old North End Community Center in Burlington to watch a dozen people practice a dance that they'll perform on Saturday, April 28, to mark Ubhauli Sakela. "It's good. This is the way," Rai said of the dance rehearsal.
And Rai will lead the day's rituals, as the local chapter of the
Bhutanese Kirat Rai Organization of America
hosts the festival in Vermont for the first time.
Bidur Rai
, the leader of the local Rai community, has been planning Ubhauli Sakela festivities for a year. He was among a group of Vermonters who participated in similar events in Springfield, Mass., in 2016 and in Cincinnati, Ohio, in 2017.
Many had described the likelihood of Ubhauli Sakela taking place in Vermont as "impossible" because of the difficulty obtaining special musical instruments and other culturally significant items, explained Bidur. These include yak hair, bows and arrows made from bamboo, and gourds.
But the Burlington resident, who's a leader of the
Vermont Nepali Heritage Dance
, said he was determined to bring the festival to Vermont. He wants his community to get "some feelings of the past," he continued.
The event is partially sponsored by the
Vermont Folklife Center
. Through a grant under the
Traditional Arts Apprenticeship Program
— where Birman Rai and his daughter, Mon, are the recognized dance masters — the local Rai community was able to buy special instruments, such as drums and cymbals, from Nepal.
The highlight of Ubhauli Sakela will be simultaneous dances performed in large circles. Mon, 28, has been leading rehearsals since last week. She learned the Sakela dance from her older brother when she was 14.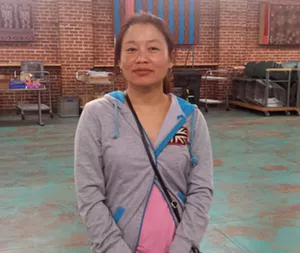 Kymelya Sari
Mon Rai
The dance traditionally has 108 steps, and a performance can last for up to six hours, Bidur explained. But on Saturday, the Vermont group will put on a 30-minute performance that involves six dance steps, said Mon.
Bidur estimates that between 300 and 400 people will attend the festival, which will take place at Battery Park in Burlington and is open to the general public. Members of the Kirat Rai communities across the U.S., including Maryland, Massachusetts, Ohio and Pennsylvania, will be among the attendees, he added.
Though Ubhauli Sakela is mainly celebrated by the Kirat Rai community, other members of the Bhutanese population are also pitching in. The Vermont Hindu Temple will make tea and
kheer
(rice pudding) for guests. A couple of the local Rai families will also prepare dishes such as rice, curry and bread.
"I'm very happy with all the support of our community members," said Bidur.