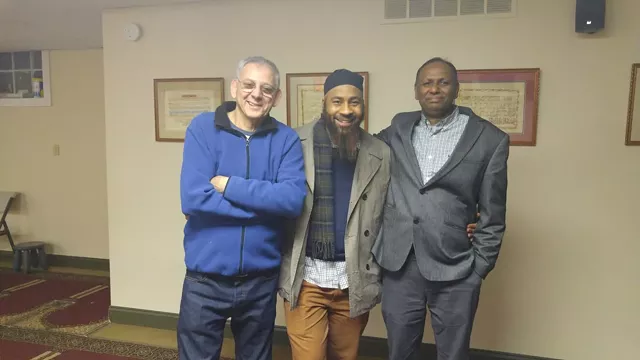 Samantha Lord-Konare
From left to right: Taysir Al-Khatib, Abd'Llah Al-Ansari, Yusuf Ali
The
Islamic Society of Vermont
has hired Abd'Llah Al-Ansari, a U.S. army veteran, prison chaplain and scholar of Arabic and Islamic studies, to be its new imam. Al-Ansari's first day as ISVT imam is April 1.
Islam Hassan,
the ISVT's former imam
, relocated to Ohio last summer.
Detroit-born Al-Ansari was one of three shortlisted candidates, said Yusuf Ali, head of the imam-hiring committee. The 10-member group includes ISVT president Taysir Al-Khatib, two women and two
University of Vermont
students.
The committee assessed the candidates on a number of criteria, such as their leadership skills, knowledge about Islam and ability to develop youth programs. It's also essential that the imam has good interpersonal and communication skills in order to build relationships with other faith groups, Ali added.
ISVT members also had a say in Al-Ansari's appointment. As part of the hiring process, he visited Vermont for a weekend and conducted a couple of programs for the community. Afterward, ISVT members completed a survey form. The hiring group then analyzed the results and submitted a recommendation to ISVT's executive committee.
"He's a good fit," Ali said of Al-Ansari. He called the new imam a "modern thinker" and "good speaker" who can relate to both young and old.
A convert to Islam since 1992, when he was in his twenties, Al-Ansari is a PhD candidate in Near Eastern Languages and Cultures at Indiana University in Bloomington. He'll be moving to Vermont from Columbia, S.C., where he's been a senior Muslim chaplain with the Department of Corrections.