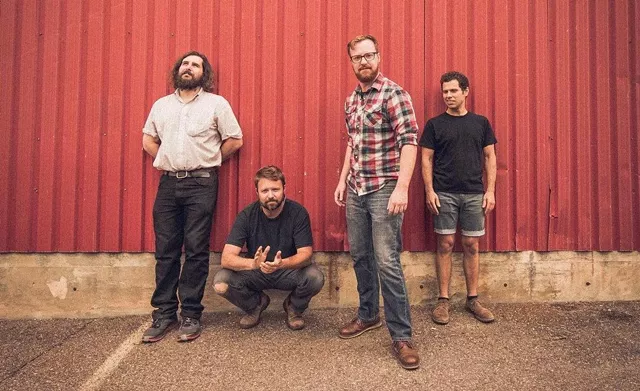 Luke Awtry Photography
Eastern Mountain Time
"Did you ever think you might've been better / if you'd just tried harder at just about anything?"
Those are lyrics to the chorus of
Eastern Mountain Time
's latest, sorta-surprise single, "On Backstreets," released in mid-February. Even for songwriter Sean Hood, who specializes in shambling songs that straddle the line between self-deprecation and self-loathing, that's one shambling, self-loathing question to pose. It's an existential landmine.
(And no, Sean, I hadn't ever posed that question to myself … until just now. But I'll be up all night wrestling with why I quit karate in sixth grade. Thanks a fuckin' lot! )
Dale Donaldson
'On Backstreets' by Eastern Mountain Time
The song is also a nifty departure from EMT's typical slacker twang, not to mention the more streamlined 1970s country-rock sound of the band's late 2017 record,
Mountain Country
. For starters, it clocks in at nine minutes — or roughly three times the length of your average EMT ditty. And it's unlike anything else in the band's canon. Hood describes the cut in an email as a "not-country kinda-jam-out." He's kinda dead-on.
"On Backstreets" sounds like what might happen if the
Monsters of Folk
got twisted on Wild Irish Rose while listening to Bruce Springsteen's
Born to Run.
The recording features a six-player supergroup of sorts, including EMT non-regulars Ben Chugg on trumpet and former Madaila guitarist Willoughby Morse on organ. Because it's an EMT project, we can assume cheap whiskey was involved. And Hood even quotes lyrics from the Boss' "Backstreets."
"We decided ['On Backstreets'] probably won't fit on the next few things we plan on releasing," writes Hood. So the band released the cut as a single, along with the original — very different and much shorter — demo.
Eastern Mountain Time play the Reservoir Restaurant & Tap Room in Waterbury on Saturday, March 3, with
Jessica Rabbit Syndrome
and
Zeus Springsteen
. "On Backstreets" is
available at Bandcamp
. Wild Irish Rose is available at fine state liquor stores throughout Vermont.