Courtesy of Kerubo
Kerubo and Michael Webster performing at Champlain College in 2016
Irene Webster is on a social mission. About three years ago, the singer-songwriter, who uses her middle name, Kerubo, professionally, went into a coma following a ruptured aneurysm.
"When I woke up, I was not able to speak. I wasn't able to walk," recalled the Winooski-based artist. Her road to recovery was difficult, she said. But it made her realize that she wanted to resume her singing career and write songs with social messages.
"It has to be meaningful singing," said Kerubo, 49. "It has [to have] messages that help people who have gone through life-or-death experiences, or [are] trapped in situations and they don't have a voice."
Born and raised in Kenya, Kerubo met her American husband, Michael Webster, in the capital city Nairobi in the early 2000s. Both performed in a band called Keru-blues. Webster played the guitar; she was the lead singer and manager.
The band performed on weekends at Toona Tree, a local restaurant. They mostly played blues, a genre that was initially unfamiliar to Kerubo. Her husband taught her everything about it, in part by giving her a lot of CDs to listen to, said Kerubo.
"If you're a stage performer, this is what you have to do," she said. "You have to learn how to project or get into character ... and then deliver it to the people."
At the same time, Kerubo continued to sing background vocals for local musicians, such as Suzanna Owiyo and the late Achieng Abura. She admitted that she felt more "alive" when she performed with African musicians. Kerubo also had the opportunity to sing in France, Japan, Senegal, Tanzania and the U.S.
Performing for a Japanese audience at the World Trade Export in 2005 was especially memorable, Kerubo said. The listeners were more reserved and she wasn't sure if they had enjoyed her performance. "[But] from nowhere, they stood up and started clapping," she said. Kerubo remembered thinking,
Oh, we did actually make an impact.
In the mid-2000s, Kerubo moved to the U.S. to join Webster. Her singing career took a backseat as she adjusted to her new life, though she continued to sing in church. She lived in Washington, D.C., and Georgia before moving to Vermont in 2011.
As a result of her brain aneurysm, Kerubo had to undergo a tracheal operation. "My capacity, to some degree, isn't what it used to be," she said. "But I have learned to just work with what I have, and it's still beautiful."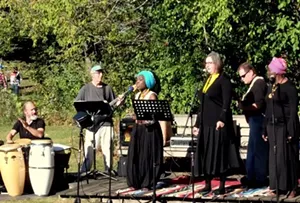 Courtesy of Kerubo
Kerubo and Kachumbari at Ethan Allen Homestead in 2017
Last year, Kerubo formed Kachumbari, an Afro-jazz band with local musicians, including her husband. They've performed at Radio Bean and the Vermont International Festival, as well as at events organized by Champlain College — where Kerubo is a receptionist — and the Association of Africans Living in Vermont. The singer-songwriter is currently recording her debut album.
Kerubo has written a song about the need for African countries to help each other and offer safe haven for refugees fleeing from conflicts. The song title, "Zima Moto," translates to "Put Out the Fire" in Swahili.
She has also written a song about female genital mutilation, both in Kisii, her mother tongue, and English. In Kenya, pockets of communities still practice FGM even though it's illegal, Kerubo said. She was surprised to learn that some groups in the U.S still practice it.
The singer-songwriter hopes that her song will offer healing to those afflicted. "I find ways to make it easy [for those affected] to process, so that they don't feel like they're replaying that trauma in their mind."
One of Kerubo's goals is to perform during the Burlington Discover Jazz Festival in June. She's also set her sights on regional music and film festivals, such as those in Montréal.
"I really, really want to do this," said Kerubo. "It's not just a passing hobby."
Cultural Mosaic is a series about performing artists in Vermont from diverse ethnic and cultural backgrounds. Got an artist we should know about? Let us know!