Kymelya Sari
Winners of 2018 Snow Snake Games, left to right: Nate Chenevert, Gavin MacNeille, Rhonda Besaw and Bryan Blanchett
Last Saturday, about two dozen people gathered in West Barnet to play the traditional Native American winter game of snow snake. The games also coincided with the official opening of the
Nulhegan Abenaki Cultural Center.
"This is an ancient Native game," explained Donald Stevens, chief of the
Nulhegan band of the Abenaki nation
. "You slide a stick down the track. Whoever goes the farthest wins."
The competition is generally friendly. But sometimes, the winner takes all the sticks, said Stevens. "If you're playing against another nation, be prepared to lose your sticks."
The games were held in Derby Line for the last three years.
Concord resident Michael Descoteaux has had his stick for three years. It's made from hardwood that's been finely sanded. He applied several coats of polyurethane to it before finishing it off with beeswax. He then dyed his stick with food coloring.
Descoteaux, who also makes hand drums, participates in the snow snake games every year. "We're trying to keep our traditions alive," he said.
Some of the attendees were from out of state. Madeleine Wright and her husband, Tom, drove for two and a half hours from central New Hampshire to attend their first snow snake games.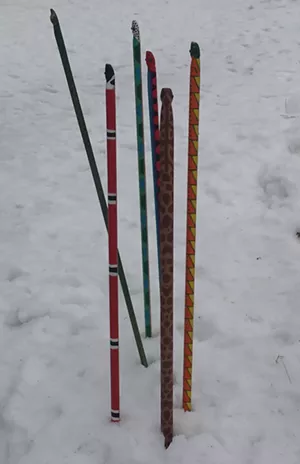 Kymelya Sari
Donald Stevens' "snow snakes"
"My first try — well, I could use a little bit more improvement, a little more practice," Wright conceded. "But I enjoyed it. I enjoyed the company."
Eugene Rich, chief of the
Missisquoi band in Swanton
, said he was there to show his support for Stevens. The Nulhegan chief had attended an event in Swanton about three weeks ago.
"The more we can show support for each other, the more unified we become," Rich said.
The attendees retreated to the Nulhegan Abenaki Cultural Center for lunch. The space has been in use since last fall for dancing, drumming and weaving classes, said Stevens.
The center, formerly known as Brookview B&B, had been purchased by Crystal Zevon, the former wife of the late rocker Warren Zevon.