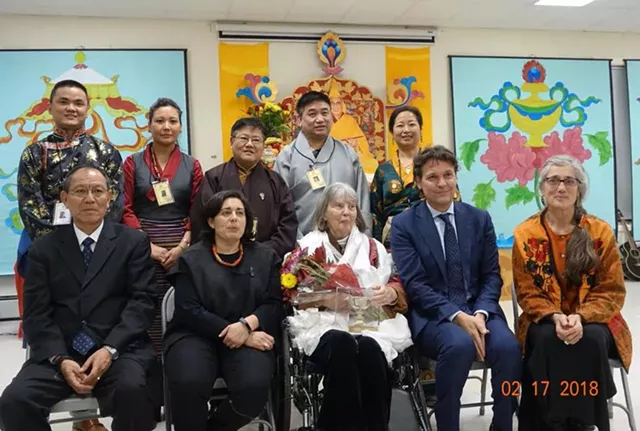 Tseten Anak
Grace Spring (center, first row) with representatives from International Campaign for Tibet and Tibetan Association of Vermont, and her daughter, Cassandra Corcoran (far right)
Last Saturday, about 150 people gathered at Faith United Methodist Church in South Burlington to honor
Grace Spring, an artist and a longtime activist and Tibetan supporter
. The award ceremony was held in conjunction with Losar — the Tibetan New Year — celebrations.
Spring, 84, is arguably best known for staging a vigil every Friday outside the Chinese embassy in Washington, D.C., for more than two decades to protest Chinese rule in Tibet. She moved to Middlebury last April, said her daughter, Cassandra Corcoran.
To recognize Spring's contributions, the
International Campaign for Tibet
decided to give her the Light of Truth award. She was a former board member of the advocacy organization. Previous recipients include South African cleric Archbishop Desmond Tutu and Romanian American writer, activist and Holocaust survivor Elie Wiesel.
"[Grace] was someone who really carried the struggle for Tibet and the awareness of Tibet to Washington, D.C., in a very special way," Matteo Mecacci told the South Burlington audience. Mecacci is the president of the organization.
"On behalf of Tibetans all over the world, especially our beloved brothers and sisters inside Tibet, we'd like to thank you so much for your immense support to Tibet and to His Holiness [the] Dalai Lama," said Sonam Chophel, president of
Tibetan Association of Vermont
.
The Dalai Lama is the spiritual leader of more than six million Tibetans, most of whom live in China. A crackdown by the Chinese government against Tibetan resistance on March 10, 1959 — nine years after Chinese troops marched in and took control of Tibet — forced thousands into exile, including the Dalai Lama.
In an interview with international media in 2011, the Dalai Lama attributed several incidents of self-immolation by Tibetans in Tibet to protest against China's attempt to impose "cultural genocide" on the area.
Tseten Anak
Rolyang Lobling students and their instructor, Migmar Tsering
Closer to home, Tibetans have made concerted efforts to preserve their traditional culture, especially among the younger generation.
To kick off Saturday's events, Chophel led the attendees in singing the national anthem of Tibet. Students from the
Tibetan music school, Rolyang Lobling
, played the
dramyin
, a traditional Himalayan lute, and performed the
gorshey
, a Tibetan circle dance.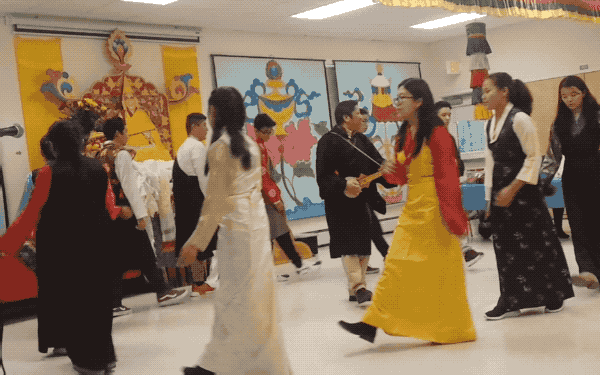 Attendees were also treated to traditional Losar snacks, such as
dresil
— Tibetan sweet rice mixed with dried fruits and nuts — and
khapse
, a deep-fried dough cut into various shapes.
Though Tibetans in Vermont have the freedom to practice their culture and religion, their biggest wish is to have their
own community center
, said Tenzin Waser, the association's secretary. They're often unable to conduct religious ceremonies because of the lack of space, she noted, adding, "There are more prayers we should be doing so that we can teach our children." The community is currently fundraising for such a center.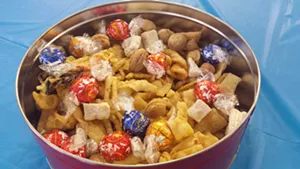 Kymelya Sari
Chocolates and khapse, Tibetan cookies
According to Tenzin Chophel, Losar is the time for him to get together with his family and the whole Tibetan community, whom he described as his extended family. He's also taken an active role in making sure that legislators don't forget Tibet, the Burlington resident said.
For many years, Chophel and his family have gone to Washington, D.C., on Lobby Day to visit their senators and representatives and talk about the Tibetan cause. They identify legislation that they'd like the politicians to cosponsor. This year, Lobby Day is on March 5 and 6.
"Lobby Day is [about taking] action for Tibet," continued Chophel. "Taking all those little steps to add up to — someday — one big step of human rights and dream of a free Tibet and Tibetan autonomy."