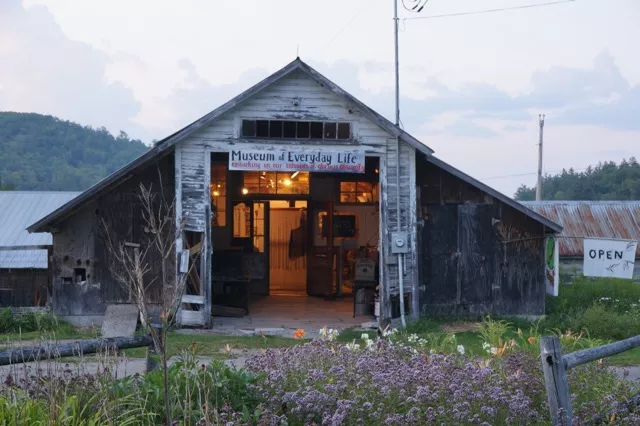 Courtesy of the Museum of Everyday Life
The Museum of Everyday Life in Glover
Each spring since 2011, a humble barn in the Northeast Kingdom comes to life — not with buds and blooms, but with a riot of ordinary things. Under the direction of artist and veteran Bread & Puppet performer Clare Dolan, Glover's experimental
Museum of Everyday Life
dedicates itself every year to a quirky and spirited exhibition that sprouts from a mundane but thematically potent object.
Last year's exhibit was on bells and whistles; the year before that, mirrors. Other previous exhibits have focused on such prosaic items as pencils and dust. Dolan has just announced the theme for the coming season at MoEL: locks and keys.
Artists and creative community members alike are invited to submit completed artworks and installation ideas. The museum is also accepting theoretical musings, which may be as expansive or as literal as their authors would like. Proposals must be received by April 15.
In a press release, Dolan offers some ideas to get the juices flowing. She writes that contributions can include, but are certainly not limited to, "padlocks, door locks, combination locks, lever handle locks, cam locks, rim/mortise locks, profile cylinder locks, wooden pin tumbler locks, double-sided keys, dimple keys, barrel keys, skeleton keys, tubular keys, paracentric keys, abloy keys, key cards, etc.,"
She adds: "We will explore related topics such as imprisonment, escape artists, chastity belts, diaries, safe cracking, locksmithing and lock picking."
In addition to creative submissions, MoEL eagerly welcomes donations of raw materials — i.e. locks, keys and the like. Folks are also invited to be a part of the installation process, with open workdays scheduled for May 4 and 6, and the weekends of May 12-13 and 19-20. The completed show will open to the public with a springtime celebration on May 27.
To contribute or request further information, use
the museum's contact form
.