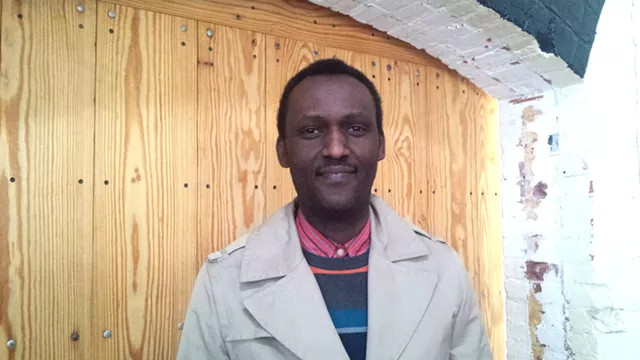 Kymelya Sari
Tchatching Ngunga
Tchatching ("Cha-ching") Ngunga has a message for Vermonters: "Very soon, they are gonna be discovering a new African culture."
Ngunga, who also goes by the name Richard, sings and composes traditional Rwandan songs. So far, he has performed mostly in Canada. "That's where I feel like my music is being valued because my community is there," he said.
But, as a Vermonter since 2011, he's ready to take his music to more audiences, Ngunga continued. "Somebody told me: 'No, music doesn't have a barrier. People just love any music,'" the Burlington resident said.
Ngunga, 39, was born and raised in Burundi. He and his family returned to Rwanda in 1996, two years after the genocide that killed some 800,000 people.
There, Ngunga was the lead singer for the performing group Intare Z' Icyusa, which means "The Strongest Lion" in Kinyarwanda, one of the country's official languages.
"I would go to so many neighboring countries, like the Congo, Uganda and Burundi, to performances and different shows," Ngunga recalled. He even performed at the wedding of the son of Ugandan president Yoweri Museveni, he noted.
Ngunga came to the U.S. in 2001 on a student visa before moving to Canada in 2003. There, he formed and performed with a group that's also named Intare Z' Icyusa.
Though now based in Vermont, Ngunga often crosses the Canadian border to perform with his group. The other members live in Montréal, Ottawa and Toronto. The group is busiest during the summer and performs about 10 shows per year, Ngunga said.
He also performs solo gigs, mainly at weddings — though a guitarist and youth dancers typically accompany him. Ngunga said he makes it a point to travel to the venue a few days before the wedding to rehearse with the dancers.
The largest Rwandan diaspora, outside of Canada, is in Maine and the Washington, D.C., area, according to Ngunga. Including the younger generation in his performance is part of his informal outreach.
"The American culture is taking over everywhere," he said. "That's why I want to use the kids in my weddings. So we keep the culture alive."
Ngunga writes songs in Kinyarwanda and French. But he's also proficient in Swahili, Kirundi and English. He utilizes these skills by working as a
multilingual liaison at the Burlington School District
; he's the "cultural broker" between American teachers and non-English-speaking students and their families.
When he's not working or performing, Ngunga hangs out with musicians in Vermont. In 2013, he was featured in three songs on songwriter John Andrew Quinn's album
Manifesto
. The pair had met at Champlain Senior Center in Burlington, where Ngunga once worked.
While he has performed only a couple of times in Vermont, Ngunga hopes that will change when he releases his second solo album,
Ibintu Byakomeye (Things Are Happening)
, by early May. His first solo album,
Mukobwa Mwiza
(
Beautiful Girl
), was produced and released in 2016 in Nairobi, Kenya.
Ngunga's second album will have six songs: three in Kinyarwanda and one each in English, French and Swahili. Five of the songs were recorded in Edmonton, Alberta, where Ngunga worked with Congolese producer Placide Pro.
The last song, "Dufite Ejo Heza (We Have a Brighter Future Tomorrow)," was recorded in a private studio in Vermont. It's a song about peace, hope and working together for a brighter future, said Ngunga. He's
fundraising online
to produce a music video for the song.
While Ngunga intends to make his albums available on the internet, he also thinks that music videos will give him more exposure.
"For a musician like me ... videos are very, very important," said Ngunga. "That's how you share what you're doing with people."
Cultural Mosaic is a series about performing artists in Vermont from diverse ethnic and cultural backgrounds. Got an artist we should know about? Let us know!