Stowe Tango Music Festival
Left to right: Héctor Del Curto, Pablo Ziegler and Claudio Ragazzi
Like American jazz, Argentine tango music was born of multicultural interaction. Africans, Europeans and South Americans, thrown together during Argentina's economic expansion at the turn of the 20th century, created tango from the percussion of drums, the lilt of waltz, the poetic banter of the plains. Tango and its American cousin continue to evolve, and a skilled group with local ties has combined the forms to award-winning effect.
On January 28, the
Pablo Ziegler Trio
won the Best Latin Jazz Album
Grammy Award
for
Jazz Tango
. The trio is composed of Ziegler on piano,
Claudio Ragazzi
on guitar and
Héctor Del Curto
on bandoneon, the instrument that makes the accordion-like sound commonly associated with tango. The recording includes original works by Ziegler and modern classics by legendary bandoneonist Astor Piazzolla. This Grammy marks the first time a tango recording has taken the top award in the Latin jazz category.
Two members of the trio — Ziegler and Del Curto — have ties to the annual
Stowe Tango Music Festival
. The festival is the United States' premier tango music festival, offering performances, workshops and high-level musical training. Del Curto, who lives in New York City, is artistic director of the STMF; in its first year, Ziegler was the featured guest artist.
Del Curto has played with Ziegler for 26 years.
"At this point, I know how Pablo thinks, and he knows how I think, and so does Claudio Ragazzi," Del Curto wrote to
Seven Days
. "We can very much predict what the other will say, do or feel. This is one of the best things that can happen to musicians when they perform together, and even more so when improvisation is involved.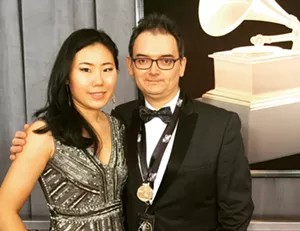 Stowe Tango Music Festival
Héctor Del Curto with his wife, cellist Jisoo Ok
"
Jazz Tang
o is a CD that was recorded live," Del Curto continued. "What we played is what was printed on the CD, unedited and uncut, [in] the heat of the moment. That helped the record to stand out at the Grammys."
Ziegler, a musician, composer and arranger, has long been a leader in what his website describes as "Argentine New Tango, the vibrant musical hybrid of classic tango, American jazz and European art music." He played for more than 10 years with the Astor Piazzolla Quintet in the 1970s and '80s, and Ziegler's 2005
Bajo Cero
won the Latin Grammy for Best Tango Album. His 2013
Amsterdam Meets New Tango
, for which his quartet played with the Netherlands' Metropole Orkest, was nominated for a Latin Grammy.
Del Curto has performed internationally with Piazzolla and tango orchestra leader Osvaldo Pugliese, Latin jazz giants such as Paquito D'Rivera, and symphony orchestras. Del Curto recently produced and released his second album,
Eternal Piazzolla
, featuring his eponymous quintet. The release inspired a sold-out CD release concert at New York City's Le Poisson Rouge.
Ragazzi is a regional Emmy Award winner who composes for film and television. Among films he has scored are the 1998
Next Stop Wonderland
and the ALMA Award-winning 2001
The Blue Diner
. He currently scores films, performs and teaches film composition at the Berklee College of Music in Boston.
The 2018 Stowe Tango Music Festival takes place August 16-19, featuring the Che Bandoneon International Competition and performances by the 25-piece festival orchestra and professional tango dancers.