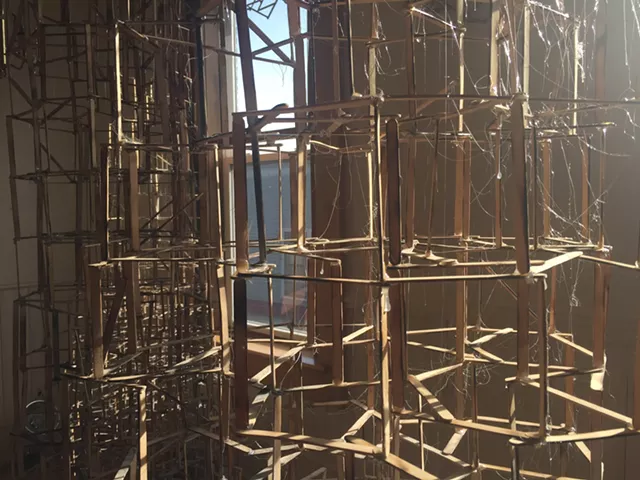 New City Galerie
Sculpture by Samantha Eckert
Hi there, art peeps (and wannabe art peeps). It's been a hot minute since we've executed our monthly roundup of the First Friday art shows we're particularly excited about. But we're back on the train! Our picks for February are an interesting mix of death, trees, parasites and analog/digital Frankensteins. To wit …
Burlington's New City Galerie launches a show that examines grief and psychic spaces through installation works. Also in the Queen City, Valentine's Day gets a special sort of comeuppance with the parasite-themed "HUSK" opening at the South End's S.P.A.C.E. Gallery.
In Montpelier, a trio of artists — including Erika Senft Miller's performance troupe — continues their two-year examination of decaying wood in "SiteTime: Scene Two: Falling." Meanwhile, in the Mad River Valley, Jim Dodds proves that meme art is not just the purview of deranged millennials.
Wherever the art spirits take you, we hope you get to enjoy at least one of these fine offerings — and be safe!
Xoxo,
(Art) Gossip Girl(s)
Basic Burlington
'Encounter Empty'
New City Galerie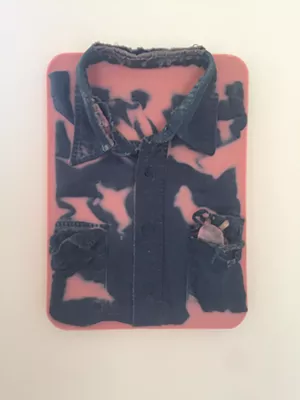 New City Galerie
Sculpture by Kevin Donegan
The newest show at New City features installation works by Lydia Kern, Samantha Eckert and Kevin Donegan that "reflects on the physical, psychic and spiritual architecture that holds emptiness." We're excited to witness Kern's continued exploration of psychic spaces, in particular through her installation titled "Flight."Using suspended bones, she ponders post-mortem remains of both the physical and intangible, or spiritual, variety. Donegan's work looks almost edible, and gives off a sense of firmness in freezing familiar clothing items in their folded state — often with a pair of eyeglasses or a pen tucked in a pocket. Eckert's massive popsicle stick and hot glue structures move the viewer to consider the spaces in between supports.
'HUSK'
S.P.A.C.E. Gallery
Martha Hull
"Worm Orgy," by Martha Hull
This just in: Valentine's Day can be annoying. 'HUSK' is a new, seasonally appropriate exhibition that tweaks painfully simplified narratives of romance. More specifically, it considers parasitic relationships — broadly defined, of course — and features works from Janine Fleri, Martha Hull, Jenn LeBlanc, Athena Kafantaris, Lynne Reed, Beth Robinson, Annika Rundberg, Alex Swaisgood and Sarah Vogelsang.


The artists met over a six-month period to conceive and gestate their interpretations. And the results look to be quite earthy and fierce. Bull scrotum? Check. Period themes? Check. A worm orgy? Do you even have to ask?

"Where do we get the energy we need to sustain ourselves?" asks curatorial text. "Are those sources sustainable or part of a system that ultimately depletes us?" Taking cues from the raw feminist anger and energies of the current zeitgeist, this exhibition promises a spirited, if grotesque, rebuttal to what many find to be a gross Hallmark holiday.
Beyond Burlington
'Jimages'
Three Mountain Cafe, Waitsfield
Courtesy of Three Mountain Cafe
Untitled Poster by Jim Dodds.
Meme art is undoubtedly the paramount cultural art form to emerge out of the last three centuries. OK, maybe not — but it's at least a pretty important one. But the work of Jim Dodds shows that loopy, copy-paste aesthetics are far from being the sole domain of the young and smartphone-d. "Jimages," Dodd's exhibition of 19 meme-themed posters, looks to be a lot of fun.

Trippy hybridized analog/digital poster art? Yes, please. But is it ironic? You'll have to ask Dodds.


'SiteTime,' Scene Two: Falling
Vermont Arts Council Sculpture Garden, Montpelier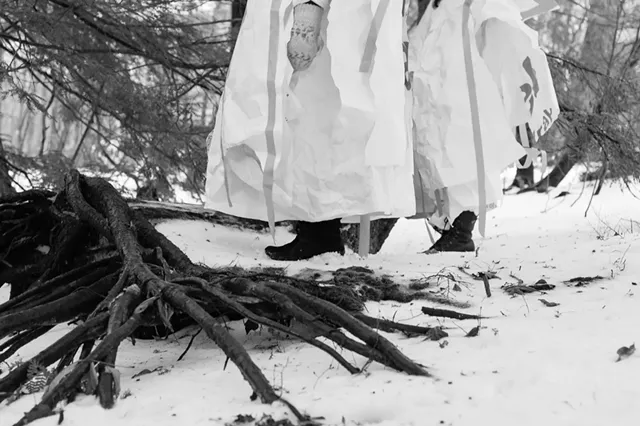 Renee Greenlee
Erika Miller Performance Lab artists rehearsing for "SiteTime/"
At the next phase of this two-year exhibition, Nancy Winship Milliken installs a new sculpture of tree limbs and steel. Meanwhile, Erika Senft Miller's new-ish performance troupe, the Erika Miller Performance Lab, don Tyvek apparel for a movement piece that responds to the slowly drying pile of cordwood at the center of this time-centric show. Michael Zebrowski will "perform a standard preparation task in planning to fell a tree using a felling ax," according to the Vermont Arts Council's most recent newsletter. We think that's likely art-speak for sharpening an ax. Whatever it means, be sure to dress appropriately for the weather!