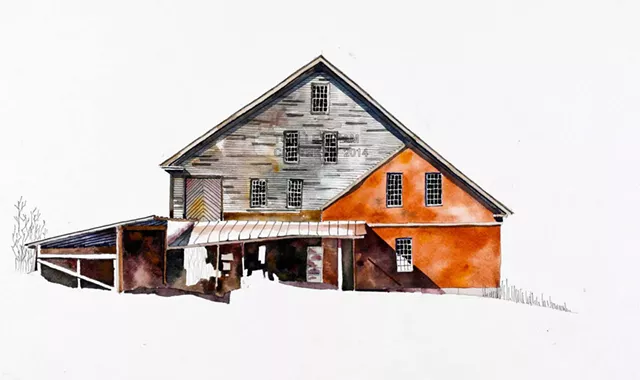 Courtesy of Tom Leytham
"Tunbridge Mill" by Tom Leytham
Thanks to an anonymous donor, the Vermont State Art Collection has just acquired several new works: five watercolors by celebrated Vermont artist and architect
Tom Leytham
. Known for his surprisingly light, airy depictions of the state's rural-industrial decay, Leytham, in his mid-seventies, has been committing the state's dilapidated factories, granaries, mills and mines to the art historical record since 2007.
State curator David Schutz first worked with Leytham for the artist's 2015 Governor's Gallery exhibition "
The Other Working Landscape
." According to Schutz, the two discussed "how wonderful it would be if somehow [Tom's] work found its way into our collection." The hitch? The state has no budget for such acquisitions.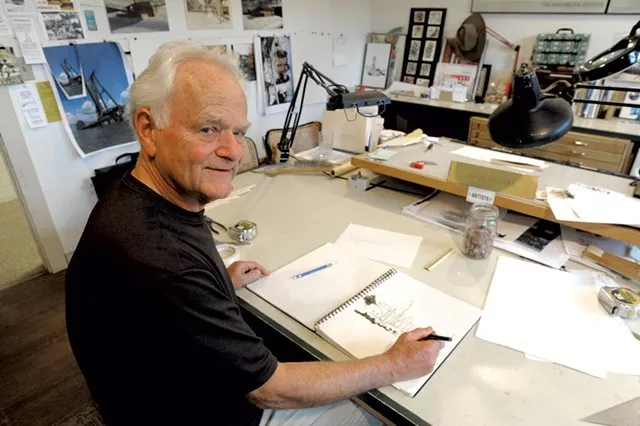 File: Jeb Wallace-Brodeur
Tom Leytham
Luckily, Leytham was able to find a donor. In recent months, Schutz visited the artist in his studio to make his selections. He chose five pieces, all 18-by-24-inch watercolors created between 2014 and 2017: "Waits River Village," "Grist Mill — Guildhall," "Granary — So. Royalton," " Granary — Danby" and "Tunbridge Mill."
Of this group, Schutz commented that he deliberately selected two works, "Waits River Village" and "Gristmill — Guildhall" as works more in line with Vermont's reputation as a quaint and scenic destination. Of "Waits River Village," which Schutz identified as one of the most-photographed locales in the state, he said, "What I love about it is that Tom is much more interested in these barns than he is in the church, so it's a very different take on what is arguably Vermont's motif No. 1."
Courtesy of Tom Leytham
"Waits River Village" by Tom Leytham
Put another way, Schutz deliberately chose a diverse group of Leytham's works, both picturesque and shabbier views. The industrial relics, he said, present a "preservation dilemma."
"How much longer they'll be part of the landscape is questionable, and that's part of what intrigues Tom as an artist — the somewhat ephemeral nature of this built landscape of structures like this," Schutz observed.
The paintings haven't been gathering dust: Following the acquisition, Schutz promptly hung them in the Statehouse, just in time for the 2018 legislative session.