SALLY POLLAK
Lena Jacobs (left) and Lucy Scott serve soup at Study Hall in Burlington
The other night at
Study Hall Collective
, a coworking space on College Street in Burlington, about 55 people gathered for an event called Soup. For $5, we each got a bowl of minestrone soup thick with greens, veggies, pasta and turkey, served with slices of baguette.
For our money, we also got treated to standup entertainment that was interesting, informative and original. This came in the form of pitches — four of them — presented by people who had conceived of projects and were hoping to fund them with a little cash. Soup money.
The person with the top pitch — as determined by the roomful of soup-eaters — would leave Study Hall with an envelope of seed money: $250 from soup donations.
SALLY POLLAK
Minestrone soup and bread at Soup
Middlebury College
senior Lena Jacobs organized the event. Jacobs is an architecture major from New York City who will graduate in two weeks. (Middlebury has a February graduation, as well as a spring one.) Soup events happen around the country and beyond, Jacobs said, noting that the one at Study Hall was the first in Vermont. Soup in Burlington was the culmination of an internship for Jacobs, who modeled the event on
Detroit Soup.
The pitches at Study Hall, like the soup, were high quality and flavorful. Each pitch was presented in four minutes, followed by four minutes of questions from the audience.
We heard about an app called Source that's designed to give people information about grocery products, based on their consumer preferences. We learned about a farm in Charlotte,
Three Chimney Farm
, whose CSA model calls for delivering produce to coworking spaces. A medical student pitched a product called ImproveMed that would help physicians identify patients at risk for opioid addiction.
One presenter, Georgia Grace Edwards, wore a charcoal-grey version of her product as she pitched it. A senior at Middlebury, Edwards is the inventor of SheFly, a customized fly for women's outdoor wear that would make it easier for women and girls to pee outside. She was inspired to create the product after spending a summer as a guide on a glacier in Juneau, Alaska.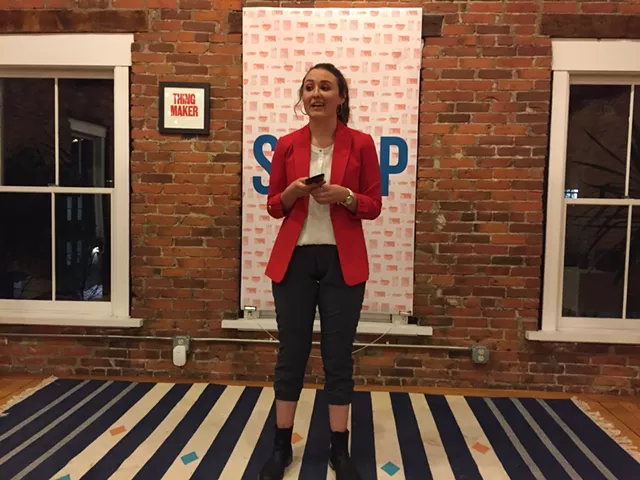 SALLY POLLAK
Georgia Grace Edwards describes SheFly, pants equipped with a special fly for women
"The difference between the male guides and me," she told the assembled soup-eaters, "is I had more trouble going to the bathroom."
This month, in her winter-term class called
Middlebury Entrepreneurs
, Edwards is working to rectify that through the development of SheFly. As part of her project, she surveyed a group of female Middlebury students who are outdoor enthusiasts. She learned that one-quarter of them had wet their pants going to the bathroom outside. Vermont is the right place to develop SheFly, Edwards said, because the state values gender equality and outdoor recreation.
After listening to the pitches, we adjourned for soup and voting. I devoured two bowls of minestrone but, as an impartial reporter, I cast no ballot.
Votes were tallied and Edwards was declared the winner of Vermont's first Soup event. She plans to use the $250 to buy fabric to sew SheFly pants from scratch, rather than retrofit thrift store finds.
I shared with Edwards a pearl of wisdom my mother bestowed upon me and my four sisters 50 years ago. There's one thing boys can do that you can't: Pee outside with speed and ease.
"We're changing that now!" Edwards assured me.
Correction, January 22, 2017: This story has been updated to reflect the correct capitalization of SheFly.