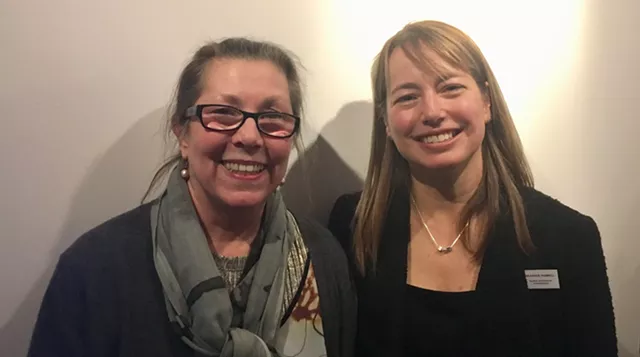 Sadie Williams
Elizabeth Bunsen (left) and Heather Ferrell
Burlington City Arts
was packed last night for the opening of its winter exhibitions and the announcement of this year's
Barbara Smail Award
winner. The new exhibitions feature art by Dusty Boynton,
Edwin Owre
and 2017 Barbara Smail Award winner
Elise Whittemore
. The 2018 award winner is
Elizabeth Bunsen
.
The annual prize honors a mid-career artist "who has a desire to expand his or her creative experience, has displayed enthusiastic support of his or her peers, and has been under-recognized in the community either through exhibition or other awards and programs," according to the website.
Sadie Williams
A glimpse of Elizabeth Bunsen's home studio.
Bunsen, a Charlotte resident, incorporates natural dyes, fiber, paper and embroidery into her practice. Her work explores internal landscapes, the geography of the mind and remembered experiences.
After the announcement, Bunsen noted that the honor is especially poignant for her because she knew Smail. In fact, Bunsen represented the deceased artist's work in her former Winooski gallery, Passepartout. When speaking about her plans for 2018 with this reporter and BCA curator and director of exhibitions Heather Ferrell after the announcement, Bunsen said simply, "I've got some ideas." We look forward to seeing more.