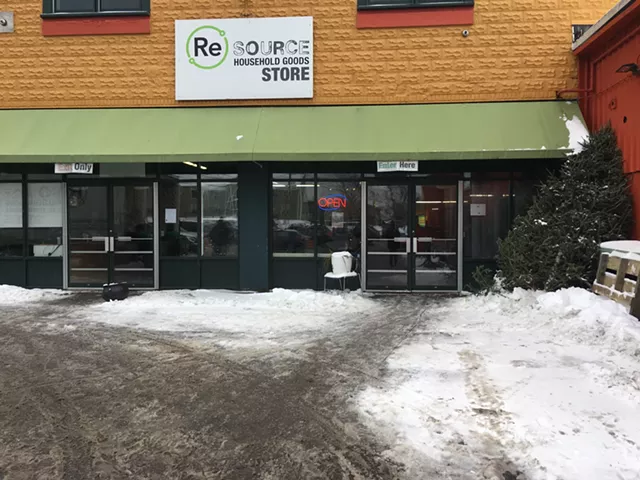 Sadie Williams
ReSOURCE storefront in Burlington
On Wednesday, second-hand store and reuse facility
ReSOURCE announced that part of its business is leaving Burlington
. ReSOURCE Household Goods has been located in the Soda Plant at 266 Pine Street for 22 years. In February, when its lease is terminated, the nonprofit will move to 326 Harvest Lane in Williston.
What will take its place? A number of new incubator spaces for small, business-minded artisans and makers, according to Steve Conant.
Conant has owned the Soda Plant for 18 years. Three years ago, when ReSOURCE renewed its lease, he informed the organization that it would be for the last time.
"It became pretty clear to me that the amount of space available for entrepreneurial pursuits [in the South End] is limited, and this building could do more in terms of incubating new businesses," Conant said
.
He added that the store's exit "opens up 17,000 square feet of exciting possibilities."
Sadie Williams
Home goods at ReSOURCE in Burlington
Conant, who owns
Conant Metal & Light
, also in the Soda Plant, envisions a variety of creative businesses taking shape in the space — with emphasis on
business
.
"I think the building supports fine artists very well through the
S.P.A.C.E. Gallery
and other small spaces," said Conant. "I think that the opportunity [for this space] is in more entrepreneurial artists and business-aspiring people."
Conant said he has already fielded inquiries from prospective tenants. He has turned down most of them.
"I don't want to fill the whole space with one big entity," he explained. "If a business wants to be big, or anticipates growing big quickly, that's not who I'm hoping to support. I'm hoping to support businesses that had their first little launch, maybe at
Generator
or another small space, and they're ready to take the next step."
Conant anticipates offering workspaces — ranging from 400 to 3,000 square feet — for below market rate. He's able to do that, he said, because his overhead is lower than that for more recently purchased properties in the city's arts district.
"I'm very, very committed to the vitality of the South End corridor, and affordable rent is one of the ways we can open the door to risk takers," Conant said.
After ReSOURCE moves out, he will need a few months to update the space, possibly raising the floors to eliminate the potential for flooding, which occasionally happens when storm drains are at capacity. Conant expects that new tenants will begin signing leases in the spring.
ReSOURCE, founded in Burlington as ReCycle North in 1991, also operates stores in Barre and Hyde Park. Its new facility in Williston will be
nearly
twice the size of the Soda Plant space, with 36,506 square feet. It will house an expanded reuse store, administrative offices, meeting rooms, classes for workforce development programs, and a production facility for its appliance and computer repair departments.
"ReSOURCE has a mission to empower individuals and strengthen Vermont communities through job training, poverty relief
and
environmental stewardship," said ReSource executive director Tom Longstreth in a press release announcing the move. "The Harvest Lane location meets our requirements to do just that."
The ReSOURCE Building Materials Store will remain at 339 Pine Street in Burlington.