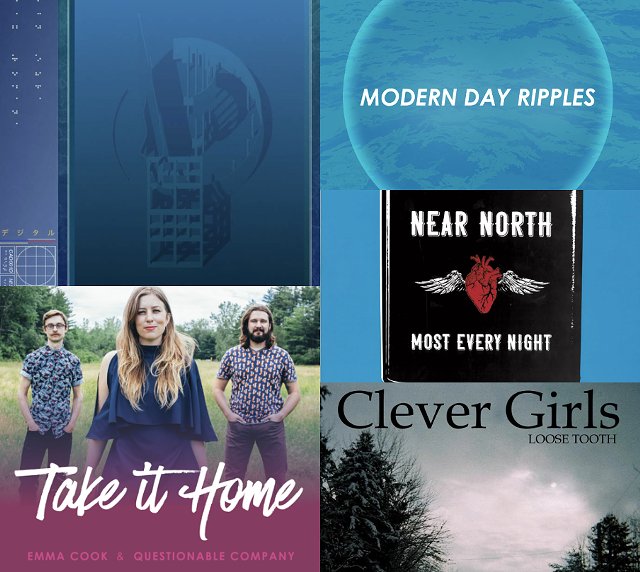 2017 was a bountiful year for Vermont music. Numerous established acts added to their legacies with sparkling releases. And an influx of new talent turned heads and left its mark, as well.
To make sense of it all we're recapping the best local singles of 2017. Listen to and enjoy part one of this two-part series below — and tune in for part two on Thursday, December 28. But be warned: These tracks are bound to get stuck in your head for weeks to come.
Emma Cook & Questionable Company,
"Walls Closing In"
Originally known simply as Questionable Company, this pop-rock trio added their front woman's name to their official title
on their new LP
,
Take It Home
. As the group's sole songwriter, Cook's vision and influence are fully realized in the unbelievably catchy "Walls Closing In," a warm, slinky song about coping with anxiety.
Clever Girls
,
"Crazy"
Clever Girls burst onto the scene with a sound that sits somewhere between alt-country and grunge — and the release of
their first EP
,
Loose Tooth
. "Crazy" is its breakaway hit. The track's relatable sentiments about love are crystallized with singer-songwriter/guitarist Diane Jean Reilly's powerful, quivering vocals.
Near North
,
"Good About You"
Franklin County's rip-roarin' rockers Near North released
Most Every Night
, one of the most
charged and urgent records
of 2017. The centerpiece is "Good About You," a whiskey-fueled, power-pop banger with seriously singable hooks.
Ebn Ezra
,
"Across the Green Steppe"
Ebn Ezra imagines a tranquil new-age paradise on
Pax Romana
, which is
quite possibly the most outstanding Vermont debut of 2017. Between blissed-out dance-pop and glossy R&B-tinged ballads, the singer-songwriter/producer lays down some heavily processed — and romantic AF — pillow talk on the reverent and tranquil "Across the Green Steppe."
Guthrie Galileo
,
"Crystalline"
Angel-voiced R&B singer-songwriter/producer Guthrie Galileo released his
sophomore LP
this year. The glistening
Modern Day Ripples
delves into the complexities of navigating post-Trump America while revealing the inner-workings of a true romantic. "Crystalline" is a chilled-out, eerie masterpiece.