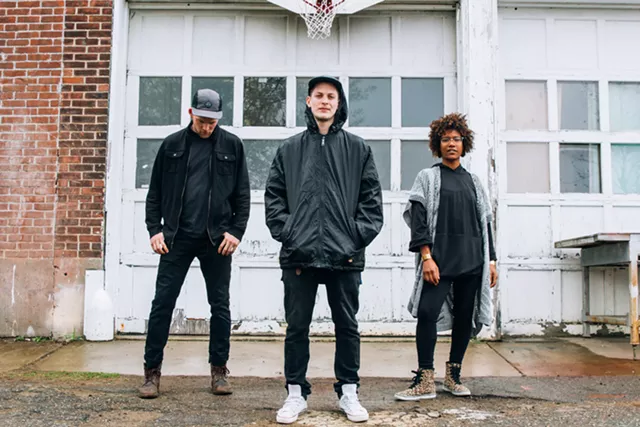 Courtesy of Kayhl Cooper
Left to right: Danny Whitney, Loupo, Stephanie Heaghney
If you're fortunate enough to get some time off for the holidays, you're probably looking forward to filling your break with as much activity and productivity as possible. But let's face it: Despite your good intentions, we all know that you'll devote at least one day to reconnecting with your couch. And on that day, you're going to need something to binge-watch.
Since its
debut
last spring, Burlington-based online music publication and production company
Noise Ordinance
has produced dozens of high-quality studio session and biographical videos featuring cutting-edge Vermont-based artists. The clips not only provide hours of entertainment, but they'll likely turn you on to some new artists, as well.
Below we've compiled some of our favorite NO clips from the past year. But there were so many to choose from we had to split them up. So tune in tomorrow for part two.
Navytrain, "Souls"
Since this video was produced, folk-rock trio Navytrain called it quits — though front man
Cole Davidson
is continuing on in a solo capacity. "Souls" is the title track from Navytrain's
one and only EP
.
J Bengoy
,
"Family House"
This five-piece, guitar-forward group makes aw-shucks slacker-rock that's as breezy as it is melancholy.
Ivamae
, "Mama"
The intimacy of soulful singer-songwriter Ivamae's work is compounded with lingering closeups and extended takes.
Steady Betty
, "I've Got to Get Away"
The musical sounds and styles of Jamaica inspire Burlington's only all-female ska and rocksteady band. Steady Betty's faithful cover of "I've Got to Get Away" by John Holt & the Paragons is a brass-tastic gem.
Loupo
featuring Stephanie Heaghney and Danny Whitney, "Letters"
Loupo and two trusty collaborators bring to life a standout cut from the hip-hop/R&B producer's 2017 album,
Good Company
.
Swale
, "Felon"
The longstanding local rock quartet released its best work to date on the 2017 LP,
There's No One Here
— and "Felon" is the record's crown jewel.
For more, visit
noiseordinancevt.com
.