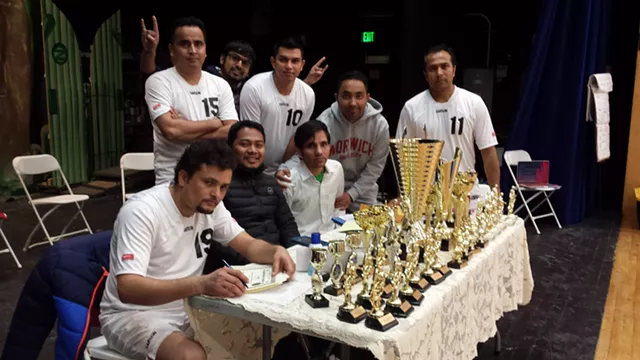 Kymelya Sari
Volunteers and members of Green Mountain Bhutanese Organization
Some say that sports bring people together. That was literally true last Saturday, as Bhutanese communities from Rochester and Syracuse, N.Y., were in Burlington to meet old friends and compete in the second interstate volleyball tournament.
Hosted by the
Green Mountain Bhutanese Organization
, the daylong event was held at Edmunds Middle School.
"Because of this sport, we can bring our community together, to spend leisure time together," said GMBO president Raghu Acharya.
Ten teams from Vermont, New Hampshire and Massachusetts participated in last year's inaugural tournament in Essex. This year saw a much smaller turnout — just four all-men's teams — because of conflicting schedules and weather conditions, Acharya explained. About 20 Bhutanese businesses, he added, contributed food and cash to show their support for the tournament.
Kymelya Sari
Tournament trophies
Meticulous planning had gone into the tournament. This included making sure that the players' meals were taken care of, and that there were trophies for every category imaginable, including rising young player, man of the match and man of the series. Even volunteers such as Goma Bhattarai received trophies for pitching in.* The most impressive trophy was reserved, of course, for the eventual champion, the Upstate Dragons of Rochester.
"[Volleyball] is a really good exercise for adults and kids," said Prati Gurung, while dodging stray balls. The Burlington resident didn't participate in the tournament, but he was one of the scorekeepers.
Soccer and volleyball are very popular in Nepal, Gurung said. He used to play both while living in the refugee camp. Keeping busy with sports is a way to make sure that the youth — both in Nepal and the U.S. — don't go astray, he continued.
For Ghana Rimal, the tournament was a family event. He said his wife, Januka Bastola, helped to prepare the meals, while he was on one of the two Vermont teams.
Like most of his peers, Rimal started playing volleyball in childhood. Back in Nepal, there were volleyball tournaments almost every month, he said. These days, Rimal plays in the indoor league at the Edge in South Burlington every Wednesday.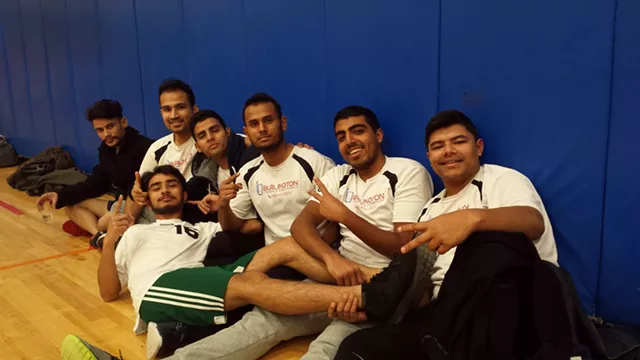 Kymelya Sari
From left: Bhim Subedi, Prabin Pokhrel, Mukesh Subedi, Rakesh Subedi, Deepak Pokhrel, Nikesh Pokhrel; front, Sujan Acharya
The other Vermont team, P S Volleyball, also plays in the indoor league, and its members are all students. The youngest, Nikesh Pokhrel, is a sophomore at South Burlington High School. His older cousin, Deepak Pokhrel, who's also in the National Guard, was a volunteer volleyball coach at his SBHS this fall. Another cousin, SBHS senior Rakesh Subedi, was selected to the Vermont All-Star Team this year.
"We know each other very well," said Nikesh Pokhrel of some of the younger players in the Dragons. They were neighbors in Nepal.
To help the students with the cost of forming a team, Tara Dulal, owner of Burlington Phone & Electronics, paid for their jerseys and tournament fee, Deepak Pokhrel explained. For now, he added, the team is complete.
"No one wants to sub out," Pokhrel said. "Everyone wants to play."
*Clarification, December 19, 2017: This story has been updated to clarify the contributions of volunteers.