Courtesy of Catherine Brooks
Catherine Brooks (at the 21st Century Museum of Contemporary Art in Kanazawa, Japan)
The
Rokeby Museum
in Ferrisburgh might not be known for festive parties, but that's exactly what took place on November 30. The occasion was to honor outgoing director Jane Williamson for 20 years of tireless devotion to the museum — not to mention achievements that earned the venue national acclaim.
A highlight of the evening was a big surprise: Staffers pulled down a temporary banner to reveal the words "Jane Williamson Gallery" installed in relief over the entrance of said gallery. The room, used for exhibitions and events, is on the first floor of the museum's newest building. The capacious contemporary venue is a far cry from Williamson's tiny, cramped former quarters in the bathroom-less historic former farmhouse.
The event's other surprise, at least to many of the assembled guests, was from Williamson herself: She announced that the new director would be Catherine Brooks, former president of the Rokeby's board of trustees.
Courtesy of Catherine Brooks
Catherine Brooks
Brooks came to the Rokeby in 2013, while she was still employed at the
Vermont Department of Tourism & Marketing
— she was the state's cultural heritage tourism coordinator and oversaw the development of the
African American Heritage Trail
. For many years before that Brooks worked at the
Shelburne Museum
as director of education. Such rich, history-based experiences make her a natural, and passionate, successor to Williamson at the Rokeby.
We tracked down Brooks to find out more.
SEVEN DAYS: Following 20 years at the Shelburne Museum and nine years as coordinator of cultural heritage tourism for the state, you clearly bring plenty of relevant experience to your new gig. Can you say how those previous engagements inform your perspective on and visions for the Rokeby?
CATHERINE BROOKS: At Shelburne Museum I learned firsthand that museums need to be fluid. Times change, tastes change and needs change. Museums need to always be looking ahead. I also learned that success is only possible because of the talent of volunteers, staff, colleagues and board members. Working together, great things can happen.
At the Vermont Department of Tourism & Marketing, I worked with a wide variety of cultural organizations across the state, and saw that the successful ones provide a great experience and put considerable effort into marketing. We often promoted partnerships among like and complementary businesses, but what made the sum of two or more parts really succeed was a genuine effort to help one another. Beyond just a partnership, it was a caring relationship.
What this means to Rokeby is that I think people are incredibly important, as are marketing and outreach. It will be all of us who ensure success as we build relationships in which Rokeby plays a vital role in the circles it inhabits — scholarship, education, recreation, reflection and community.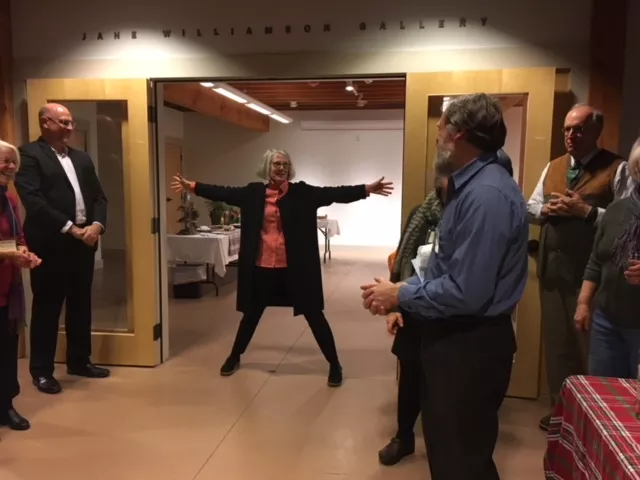 Courtesy of Rokeby Museum
Jane Williamson at November 30 retirement party
SD: Your cultural heritage job and position on the Rokeby board overlapped. I know that you managed the development of Vermont's African American Heritage Trail. Is that how you got involved with the Rokeby initially?
CB: I knew Jane through museum circles, and originally hoped to volunteer as a guide. After my work on the trail, Jane invited me to come on the board.

SD: What drew you to serve on the board?
CB: I think it wasn't so much as what drew me (I live in Vergennes and was glad to volunteer locally and with a museum), but what happened once I joined the board. For me, placing the
Black Lives Matter signs
at the museum was a watershed experience. There's a difference between talking about being relevant and actually jumping in.
When well-meaning and under-informed people asked me uncomfortable questions about Rokeby's actions, I realized those small signs were challenging beliefs and, in the best cases, opening doors. And I saw that, though small and located in a rural community, Rokeby can take on issues of national importance. As did Rowland and Rachel Robinson.
SD: You're still president of the board of trustees, right? Will you be passing that torch at the meeting in January?
CB: At the most recent meeting I submitted my resignation and we voted in Maisie Howard (lives in Williston and most recently was director of development for the Green Mountain Club) and Marty Dewees (lives in Ferrisburgh and is retired from teaching social work at the University of Vermont) as co-chairs.
SD: What excites you about becoming director of the Rokeby?
CB: Because of Jane's work, Rokeby is highly respected by American history scholars and has earned exhibit and publication awards from regional and national museum professional organizations. As a National Historic Landmark and having state-of-the art galleries and program space, Rokeby is poised to expand our audience and support base. I'm very excited to be able to work on new initiatives that will support these goals.
SD: Can you elaborate a bit on those "new initiatives"?
CB: I can't be specific before we have the board retreat. But, for a small museum, Rokeby already does a lot, and we are financially secure because we live within our means. However, with more "means," we can do more. Over the next few years, our goal is to significantly increase visitation and financial support. We will be considering new efforts to engage families, middle and high school students, and teachers. Rokeby has attracted a number of passionate younger board members, and we intend to engage that demographic in our programs, as well.
SD: It can't be easy for any museum to thrive these days. What is the Rokeby's biggest source of revenue, and do you envision developing other streams?
CB: Over the last few years, admissions income is equal to or leads donations and grants. I find it interesting how generous visitors to the museum are — they often make donations at the end of the guided tours. In the near future, we plan to expand the museum store offerings and add new events.
SD: Who visits the Rokeby? Do you have info on the demographics?
CB: I don't have my hands on specifics right now regarding in-state and out-of-state [visitors], but this year staff mentioned a noticeable increase of in-state. Regarding out-of-state visitors and those who learn about Rokeby from the African American Heritage Trail — we've seen people spend hours on the site, and linger beneath the towering butternut trees, as if it is hard for them to leave. Again, we need to increase efforts to get the word out. Tour guides say the challenge is getting people here. Once here, they leave well satisfied.
SD: The Rokeby has a unique and important history. How do you see it remaining visible and vital to Vermonters now and in the future?
CB: From 1793 to 1961, Rokeby was home to four generations of a family of Quakers, farmers, abolitionists, artists and authors. Members of each generation distinguished themselves in, for their time, uncommon ways. With an acute awareness of the world around them, they expressed their passions with simple tools — pen, paintbrush, pencil or hay rake — but in profound ways. We will tell stories from each generation through a lens that can serve to inspire us all to find focus, to hone our skills, and to contribute in ways that can make a difference.
Making a difference is what is central to Rokeby. Our National Historic Landmark status was earned because of the well-documented actions taken by Rowland and Rachel Robinson to abolish slavery. This will continue to be Rokeby's central story, and we will remain committed to addressing issues of social justice.