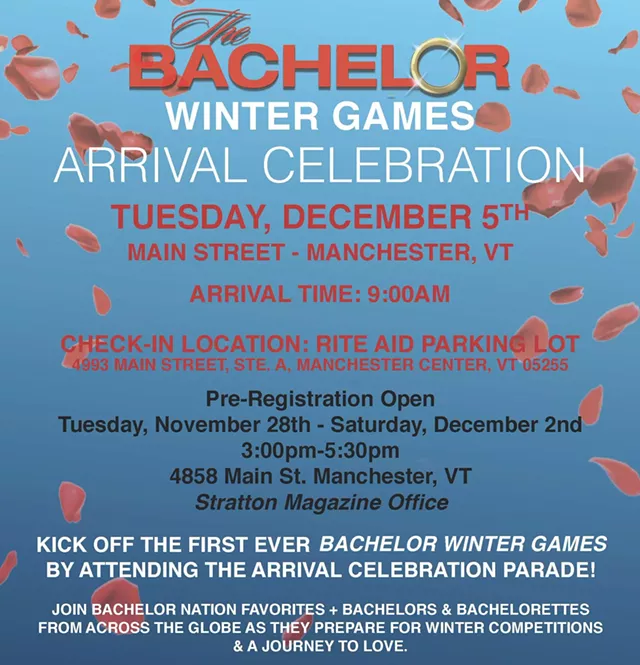 Vermont Production Council
'The Bachelor: Winter Games' Arrival Celebration flyer
"The Bachelor" is coming to Vermont — Manchester, specifically.
Earlier this fall,
reports began circulating
that ABC television would be shooting "The Bachelor: Winter Games," a spinoff of the network's hit reality dating series, "The Bachelor," at a ski resort in Vermont. Details have been sparse these past few months — including where, precisely, the show would be filmed.
On Tuesday the
Vermont Production Council
circulated a flyer on
Facebook
and
Twitter
announcing an "arrival celebration" parade for the show. The shindig is scheduled for Tuesday, December 5, on Main Street in Manchester. (BTW, given its proximity to Manchester, the smart money would seem to be on Stratton Mountain Resort as the filming locale.) Fans of the show can take part in welcoming, as the above flyer puts it, "Bachelor nation favorites … from across the globe as they prepare for winter competitions & a journey to love."
According to a
report from the Bennington Banner
, those wishing to join in the love journey — as spectators, that is — can register at the
Stratton Magazine
office in Manchester from now until Saturday, December 2.
"The Bachelor: Winter Games" is scheduled to air on ABC in February.