It's Monday, which means it's time for your weekly dose of locavore levity: the Joke of the Week! This week's joke comes from Burlington's Sky Sandoval. Take it away, Sky…
I saw a Dunkin' Donuts truck that read, "America's Favorite Coffee." I think that's more about distribution than favoritism, Dunkin'.

You can't just conflate something being widespread with it being beloved. If you could, there would be a bunch of safe-sex pamphlets out there that would read, "HPV: America's Favorite STD."

About That Joke
Says Sandoval: This joke that I thought of on the drive to work is definitely going to disrupt Dunkin's stranglehold of the East Coast coffee market.
Meet the Comedian, Sky Sandoval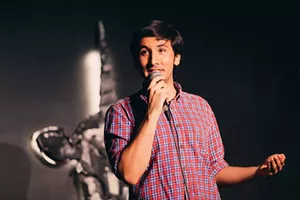 Courtesy of Sky Sandoval
Sky Sandoval
Sky Sandoval
is a Burlington-based comedian who has opened for national acts such as DeAnne Smith and was a finalist in the 2017 Vermont's Funniest Comedian contest. He produces the Cup of Comedy showcase at Radio Bean in Burlington on the last Sunday of every month.

See Him Live
Sandoval performs at Comedy & Crepes on Monday, November 13, at the Skinny Pancake in Burlington . He'll also appear in the Stand Up, Sit Down & Laugh showcase on Saturday, November 18, at the FlynnSpace in Burlington.
Think you can do better?
We're always looking for jokes from local comedians. We publish one joke each week, and you can read through previous ones
here
.