Rachel Jones
Drying posters
Do you remember where you were a year ago, when the polls closed, the votes were tallied, and Donald J. Trump was elected 45th president of the United States? In commemoration of this momentous anniversary, community members gathered Thursday night in Burlington for an original and colorful protest: For a $5-10 donation, guests could create their very own poster art by throwing paint-filled balloons at images of Trump and members of his administration.
Dubbed "Rage in the Face," the event was created by local activists Mattison (who uses that name only), Hillary Read and Sarah Wright, and hosted by Giovanna and Michael Jager at
Iskra Print Collective
.
Rachel Jones
Posters about to get splattered
By 8 p.m., the concrete wall in the alleyway outside the printmaking studio was a messy rainbow of splattered paint. Luis Calderin — former arts, culture and youth vote manager for Sen. Bernie Sanders' (I-Vt.) presidential campaign — deejayed upbeat tunes, and guests drank Zero Gravity and Fiddlehead from on-hand kegs.
Stylized black-and-white portraits of Trump and others were stacked on the tables, alongside five donation jars — one each for the Southern Poverty Law Center, 1% for the Planet, the American Civil Liberties Union, Planned Parenthood and the Brennan Center for Justice.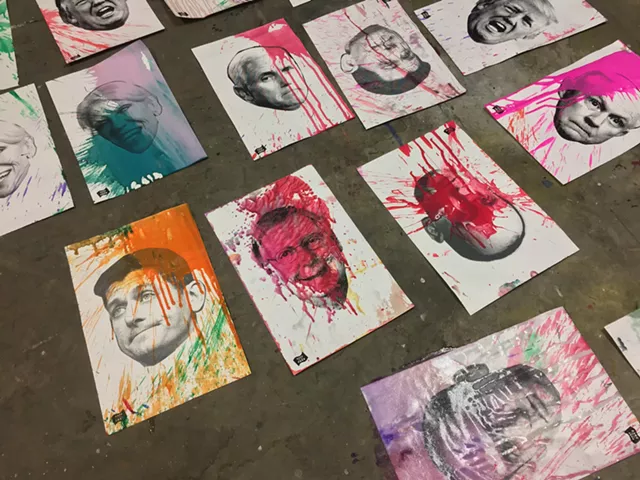 Rachel Jones
Drying posters
Hanging from a long clothesline were the likenesses of the president, his daughter Ivanka and son-in-law Jared Kushner, former senior adviser Steve Bannon, Attorney General Jeff Sessions, senior policy adviser Stephen Miller, presidential counselor and media mouthpiece Kellyanne Conway, Vice President Mike Pence and U.S. House Speaker Paul Ryan (R-Wis.), all dripping with exuberant splashes of paint.
"We were looking [to organize] something that could give people some release," Read told
Seven Days
. Wright said that they wanted to provide tangible support to populations threatened under the Trump administration: women, people of color, LGBTQIA communities and the disabled.
"How do we channel our own righteous anger at the way people are being treated?" said Mattison. "I feel assaulted on all levels: I'm gay; I'm a person of color; I'm a woman."
Among those who turned out for the event were writer and filmmaker
Jim Carrier
. Nearly 20 years ago, while living in Alabama, Carrier wrote the Southern Poverty Law Center publication "
10 Ways to Fight Hate: A Community Response Guide.
" Since moving to Vermont in 2015, he has continued to work with the organization, most recently working on the guide "
The Alt-Right on Campus: What Students Need to Know
."*
Rachel Jones
Jim Carrier
Speaking with
Seven Days
inside the print studio, Carrier held a 16-by-20-inch poster of Sessions bearing an explosion of red paint. Why Sessions? "He was my senator [when I lived in Alabama]," Carrier said. "He's a racist, [and] he's taking us backwards. He's a shameful public servant.
"I think this is a wonderful outlet for the anger and the pent-up outrage about Trump and what he's done," Carrier added. "He's proven to be a complete Neanderthal."
*Correction, November 10, 2017: An earlier version of this story misstated the publication most recently worked on by Jim Carrier. It is "The Alt-Right on Campus: What Students Need to Know."