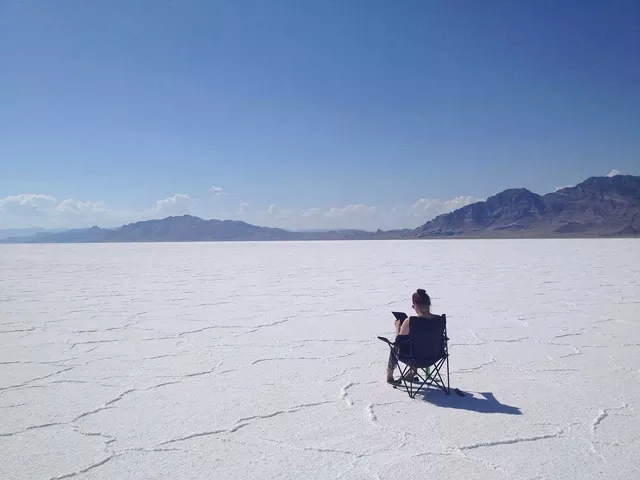 Viktoria Strecker
Viktoria Strecker taking in the Salt Flats on her roadtrip.
Viktoria Strecker came to Burlington for the first time last year, when she exhibited works in the Moran Plant with two other Germany-based artists in Modes of Conduction, curated by Overnight Projects. Now, the Dusseldorf, Germany-based artist is back. Her month-long residency in the Champlain College Art Gallery began on October 11 and culminates in an exhibition at the campus gallery that opens on Thursday evening.

The show, titled "Inversion," is guest curated by Abbey Meaker, the founding director of Overnight Projects. (Curator Chris Thompson stepped down from his role as the gallery's curator in August when he became the Burlington Generator's new executive director.) "Inversion" will feature sculptural installations created with a 3D pen alongside drawings inspired, in part, by iconic American vistas. All of the work in the gallery has been created on US soil, much of it during a cross-country road trip Strecker took before coming to Vermont.


Strecker, 30, was born in Hannover, Germany, and is in her last year at the prestigious arts academy Kunstakademie Dusseldorf.
Rachel Elizabeth Jones
Abbey Meaker (left) and Viktoria Strecker
Seven Days: So the work you're doing right now is all done with a 3D pen and plastic filament?
Viktoria Strecker: Yes, the installations at least. The drawings are also going up, drawings and scratchings.
SD: How long have you been working with the 3D stuff — the pen and the filament?
VS: My brother gave it to me one and a half years ago for my birthday. So it's just one way of translating what I draw. I usually start with drawings, [and the installation is] not going to be the same thing as the drawings, but they're related. I always try to find different materials, combinations of new materials in order to make a translation into the room, and a 3D pen is only one possibility.

SD: What are other possibilities you've used to translate?
VS: For example, I sewed a mattress so it looks like a rock area and like a cave. I do a lot with heat, on receipts or fax paper. With wood, [I] work a lot with scalpels, because I don't like brushes. I used to be a painter, but I'm not anymore. I use paint if I need to — also in the translation of materials — but it's not ... I'm not interested in color, [but] rather in structure and detail. And color can be possible, but it's not necessary.
SD: And you went on a road trip before you came here. Can you tell me a little bit about that? Were you creating work as you went, and what parts of that will we see in the show?
VS: The road trip was from coast to coast starting at the west and then finally reaching the east in Maine. It was amazing and very interesting to see all those kinds of landscape and the space you have. It's amazing to see how much space this country offers. I had already started to prepare those tiny parts for the installation in the car, because I would just plug [the 3D pen] into the cigarette thing, and I did some drawings. And the drawings are basically the landscape I saw.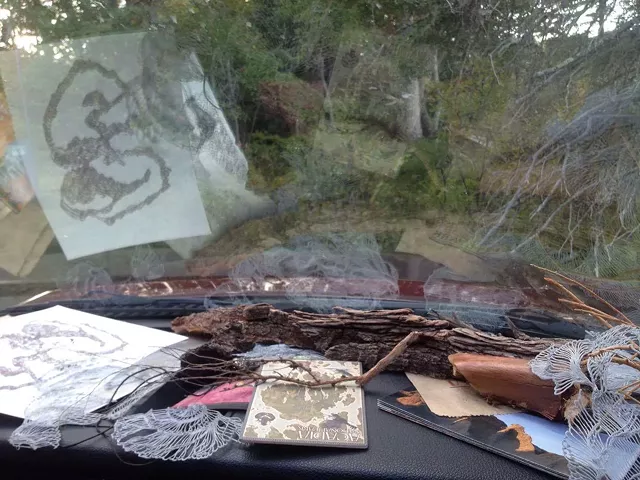 Viktoria Strecker
Works in progress
Everything you will see in the show has been done in America. I thought it was important not to bring something from Germany. It's all one thing here, one phase of time. And especially the [Bonneville] Salt Flats compared to the Craters of the Moon [National Monument & Preserve in Idaho] was very important for me. The Salt Flats were in Utah if you drive from Salt Lake City three hours west — this is where the people race. It's just a landscape of white salt, actual salt. It looks like snow, and it was amazing there. We camped there, and at night you couldn't tell where the floor ended and the sky began, so you really were in a bubble of the Milky Way. It really changed you — it was really mystical. And then the next day we went to the Craters of the Moon, which is a volcanic landscape, very rough, very black and kind of the opposite of it. And those two landscapes I thought was the most interesting difference, and opposite...
SD: Like a contrast?
VS: Exactly. And there's going to be a book for the exhibition that's coming out later. At the end of October we will have a book release with an artist talk, and those photos from the trip will be [in it] also.
SD: Are any specific drawings related to the Salt Flats or the Craters of the Moon? Or is it general, across the board?
VS: It's general, but the basic idea is the difference. The exhibition is called "Inversion." First of all, it's related to the techniques, which I inverted. This [drawing] is ballpoint pen on paper, and the other thing is scratching. One is I add something, and, on the scratching, I take it away. And the same will be here with the silver [filament] and the transparent [filament] of the [3D] installation. The transparent part will [create] shadows on the wall, so we have a drawing on the wall which is not really there, and then this drawing [with the silver filament] is really there.
Viktoria Strecker
A scratched drawing by Viktoria Strecker
SD: So there are material inversions and the subject is inverted as well?
VS: Yeah.
SD: Regarding another contrast, your drawings and sculptures feel very organic and very cellular. But you're making them, for this exhibit at least, with a 3D pen. So there's a contrast between what they're talking about and what they're made with.
VS: Exactly. There usually in my work — it's a brutal way of doing them. When it comes to heat, for example, scratching or scalpel, it's all sharp things, or it's a material which is not organic at all. I like this contrast a lot, because if you have a brutal or rough way to produce something which can still be on point and very detailed, [then] you get something which is very natural out of it. The transparent part will have, I hope, some sharp shapes also combined with [the more organic forms], they're going to have acrylic feet, which is transparent, so they can stand. And this is very sharp, so there will also be a contrast in the very organic and prettyish shapes and the rougher, broken acrylic.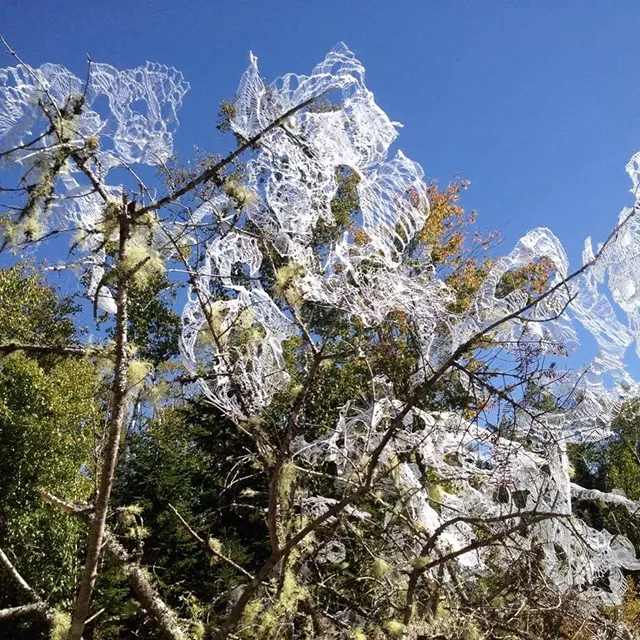 Viktoria Strecker
Works in progress
SD: You did a lot of it in the car, but you've also been doing a lot in the gallery. What have the interactions with students been like?
VS: Oh, it was very interesting, because they were very interested. The professors came with whole classes for twenty minutes, and I [talked] about what I do, how it is in Germany, whatever. And the art scene was pretty nice, and every day people are coming [and] wanting to see, so this was a nice exchange, and they were really welcoming.
SD: We talked about the title of the show already, "Inversion." And we talked a little bit about the brutalness, but your work also feels really manic — the intense repetition of one action. Why the emphasis on repetition in the forms?
VS: You want to know the real deal? Have you ever heard of iteration in mathematics? Iteration means you have one segment, one part detail, and with the repetition of it, it gains a bigger form, a bigger shape. And if you repeat the bigger shape, which is also including the smaller shapes, you get even bigger shapes.
SD: Like the universe expanding?
VS: Exactly, so it's kind of what I do with the small things: I try to combine them. The neighbors are kind of related, but as soon as they reach a bigger dimension, it's jumping through another shape. You have this little thing that looks like this bigger thing. So it repeats and expands.

It's very interesting for me and also if you repeat, you get into a mode where you're not only creating but you become the viewer. It's a dialogue between you and the work, and if you're sitting there for a long time, all of a sudden I can see what is happening. It's not automatic, but it's very being aware of what is happening, and it's a really nice mode in order to get a kind of ancestral structure which is universal.

This is what I'm looking for in everything, so repeating stuff is very important to me. For example, once I did a work with pistachios. I drew on pistachios with a ballpoint pen like different small drawings and did 8,000 of them. And after I was done, I looked through and some of them were identical, really identical, and this is what makes me think there really is some necessary form there, when you do it a lot. They were the same, and I didn't go for that. So maybe there is something like an ancestral structure in all things. Does that make sense?
SD: Yeah. It's complicated but it makes sense. The idea that you're not necessarily generating something, but you're allowing something to come out of you, you're tapping into something that's already there.
VS: Which is also kind of already there and has been there. Because if you see these things or let those things happen, you're gaining something timeless because it's always been there. And timelessness is very important to me, that it looks timeless or feels timeless. One question people are always asking me, and I hate it, is: "How long does it take?" And this is the perfect link to that. It doesn't matter, because this timelessness also happens in the process. So it really doesn't matter how long it takes, and you don't even feel it, almost.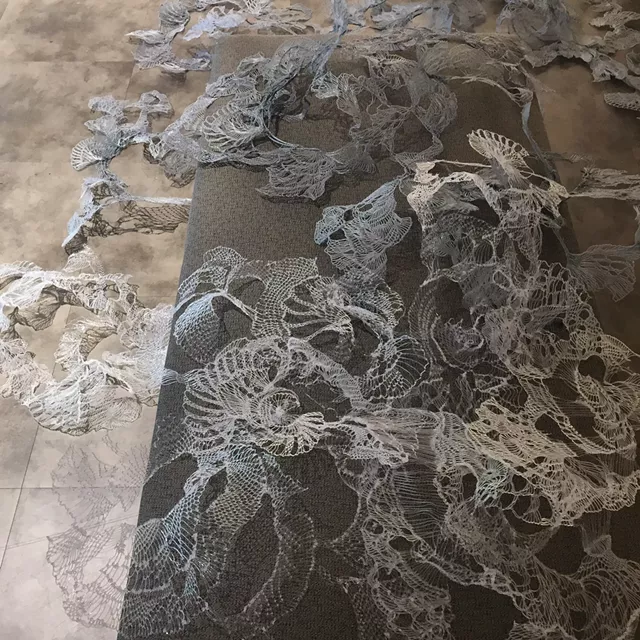 Viktoria Strecker
Installation components