It's Monday, which means it's time for your weekly dose of locavore levity: the Joke of the Week! This week's joke comes from New Haven's Katie Gillespie. Take it away, Katie…

My friends in relationships are always telling me that when I'm with the right person, I'll just know. But I check Amazon reviews before I buy a toothbrush. Literally, the only thing I've ever "just known" is when I have a urinary tract infection. Is the feeling of peeing knives what I'm going for here? Because I'm not sure I like cranberry juice enough for a lifetime of that.

About That Joke
Says Gillespie: No one knows what they're doing when it comes to dating, so let's all stop pretending*!
* giving single people advice as if singleness were a condition from which to be cured [Katie steps off soapbox]
Meet the Comedian, Katie Gillespie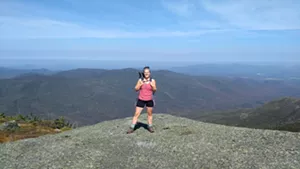 Courtesy of Katie Gillespie
Katie Gillespie
Katie Gillespie
grew up in Wisconsin, so she naturally spends most of her free time eating cheese. She works full time, goes to school part time, hikes mountains and does comedy as much as possible.

See Her Live
Gillespie performs at the Green Mountain Cabaret's Danse Nocturne: An Evening of Gothic Burlesque at Club Metronome in Burlington on Saturday, October 28. She will also perform at Possessed! Comedians Channel Other Comedians at the Vermont Comedy Club in Burlington on Sunday, October 29.
Think you can do better?
We're always looking for jokes from local comedians. We publish one joke each week, and you can read through previous ones
here
.