Courtesy of Atlas Distribution
Still from 9/11.
Where were you on 9/11? It's a question most Americans who lived through that tragic day in 2001 can answer with pinpoint accuracy.
Filmmaker and musician Martin Guigui, a former Vermonter who spent part of his youth in New York City, recalls being awoken in the early morning at his Los Angeles home by a friend in New York who was calling to say he was safe. In a state of confusion, Guigui turned on the news to see footage of the terrorist attacks on the World Trade Center.
"Millions and millions and millions, if not billions, of people remember 9/11. They remember where they were," Guigui says in a phone interview. "It's the modern-day version of Pearl Harbor or who shot JFK. It's that moment for our generation, and many generations."
Guigui's latest film, which the writer-director will bring to Merrill's Roxy Cinemas in Burlington on Sunday, October 22, is simply titled
9/11
. It's based on Patrick Carson's play
Elevator
, about five people of various cultural backgrounds who were stranded between floors in the North Tower after the first plane hit.
The film expands the first act to include backstories of the trapped characters. It also adds the role of a control-room employee, played by Whoopi Goldberg, whose voice over the elevator's intercom serves as the characters' sole connection to the outside world.
Guigui says he was initially hesitant to adapt the play, which premiered in Tucson, Ariz., in 2011, "because of the sacred ground that that story lives on." He eventually went forward with the project, he says, because he was "so intrigued by the internalized aspect of the story — of those who were on the inside trying to get out."
With the exception of second-unit location footage shot in New York, the $5 million production was filmed entirely at Thunder Studios in Long Beach, Calif. Sets were built to scale, including the elevator where most of the story unfolds. Besides Goldberg, the cast includes Gina Gershon, Vermont resident Luis Guzmán, Jacqueline Bisset and — controversially — Charlie Sheen.
In a 2006 interview with far-right radio host Alex Jones, Sheen raised eyebrows when he questioned the official government account of the events of 9/11. Specifically, the actor suggested that the collapse of the Twin Towers was caused by controlled demolition.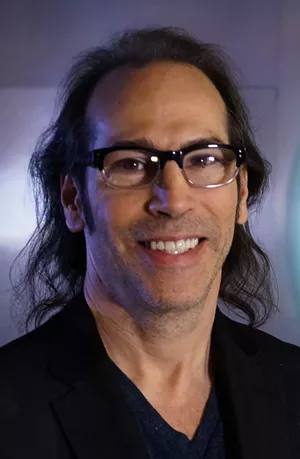 Courtesy of Martin Guigui
Martin Guigui
Guigui says he cast Sheen without prior knowledge of his 9/11 "truther" comments. He notes that he wrote the film's billionaire businessman specifically with Sheen in mind, as a continuation of the actor's role as the brash young stockbroker in Oliver Stone's 1987 drama
Wall Street
.
"I was unaware of his comments about 9/11, and when I found out about it, I didn't care, because a lot of people make those comments. There are a lot of conspiracy theorists out there," Guigui says. "And that was then. This is now. This is a different Charlie Sheen."
Guigui thinks an anti-Sheen bias contributed to the film's mere 11 percent "fresh" critics' rating on the review aggregation website Rotten Tomatoes. Though he declined to name names, he suspects at least one review was written without the critic actually having seen the movie, he says. He adds that
9/11
received a standing ovation following its Los Angeles premiere and was well-received at other screenings he attended. (Rotten Tomatoes lists a 53 percent audience score, meaning more than half of registered users liked the film.)
The screening at the Roxy will be followed by a Q&A moderated by Vermont filmmaker Jay Craven. In addition to Guigui, the event will feature several members of the production who are either native Vermonters or have family ties to the state, including producer Warren Ostergard and supporting actor Paul Burroughs. Proceeds will benefit the Burlington Firefighters Association.
The director's Vermont roots run deep. Born in Argentina, he moved to Middlebury as a teen when his father, Efrain Guigui, was offered the baton as conductor of the Vermont Symphony Orchestra. Guigui's first feature film,
My X-Girlfriend's Wedding Reception
(1999), was shot in Vermont and includes a cameo by then-Congressman Bernie Sanders (I-Vt.) as a rabbi with a penchant for long-winded baseball asides.
Guigui says it's an honor to bring a film that focuses on the humanity of 9/11 back to one of his adopted homes.
"It's one of those films," he says, "that after you experience it, it brings you back to that place where we were 16 years ago, where the entire planet stood still, and we all became one."
9/11
screens Sunday, October 22, 7 p.m. at Merrill's Roxy Cinemas in Burlington. $15. More info here.