Sadie Williams
Winning dogs pose with their humans.
The
Winooski Farmers Market
was overrun by a horde of dogs this morning. Forty canines gathered with their humans to compete in the first-ever Best Pooch in the 'Noosk, an informal dog show organized by
Downtown Winooski
.
The event was hosted by Emmy Award-winning WCAX anchor
Darren Perron
, who energetically described each contestant as he or she trotted down the makeshift runway cordoned off in the middle of the market. The doggie destination was a tent that sheltered the four judges from the midday sun.
Sadie Williams
Mocha, Best Costume winner
Those judges included
Whitney Troy-Vowell
, founder of
Oh My DOG
; Winooski Mayor
Seth Leonard
; Downtown Winooski executive director Maura O'Neill; and Farrell Campbell of
Lamoille Valley Veterinary Services
.
As the contestants wiggled and barked their way through the event, the judges scored them in eight different categories: Cutest Male, Cutest Female, Best Trick, Best Costume, Looks Most Like Their Human, Worst Breath, Sheds the Most Hair, and Funniest Name.
Mayor Leonard was given the honor of sniffing an exhalation of each dog that competed in the "worst breath" category, a job he performed with good humor. Leonard often exclaimed, "There it is!" after getting a particularly fetid whiff.
Sadie Williams
Mayor Seth Leonard takes a whiff of Blue's breath
By all appearances, the event was a success. Not only was there a sizable crowd watching from the sidelines, but the organizers were forced to cap the number of contestants at 40 because so many people signed up.
"We had no idea how successful it would be," said O'Neill after the show wrapped up. "[Board member Anne Vernon] had the idea a few months ago, and we just ran with it."
Will they do it again? "Definitely," O'Neill said. The Farmers Market closes for the season next week, but O'Neill said the event will likely return in the fall of 2018. The cooler weather makes it easier to pull off, she noted.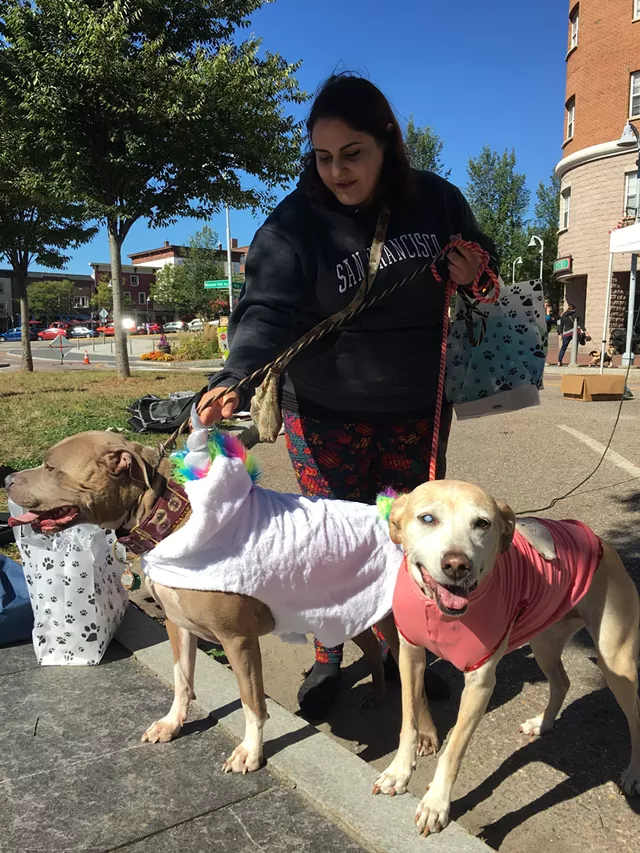 Sadie Williams
Tamara Melkumov wtih Bella (left) and Nala
The winners of the inaugural Best Pooch in the 'Noosk are: Bella, Cutest Female; Ralph, Cutest Male; Mishka, Best Trick; Mocha, Best Costume; Angus, Looks Most Like Human; Blue, Worst Breath; Xander, Sheds Most Hair; and Madam Vice President, Funniest Name.
Olivia Bartelheim
Ralph hamming it up with Winooski Mayor Seth Leonard
Cutest guy Ralph belongs to Olivia Bartelheim. When she came across the event on Facebook, she said, "I signed up immediately."
Why? "I'm a lifetime fan of dog shows, and it bums me out that we don't have an official way of showcasing other [types of] dogs," she said.
"Purebreds are just a sliver of the dog world," Bartelheim continued. "Everyone loves a good mutt. Ralph is just … too good for this world, including me. It makes me so happy to get to introduce other people to Ralph and see
them
so happy. Any opportunity to let him ham it up and make friends is a day well spent."
Not every mutt arrived at the market with an owner. Among the booths selling veggies, pickles and other fare was a table for
Pibbles and More Animal Rescue
, where 3-and-a-half-year-old rescue pup Ellie-Mae watched the festivities with her foster mom, Jen Strickler. Luckily, she got a little love, too, as attendees stopped by to give her pets and kisses.
Who knows, maybe next year Ellie-Mae will be strutting her stuff down the runway with the rest of the pack.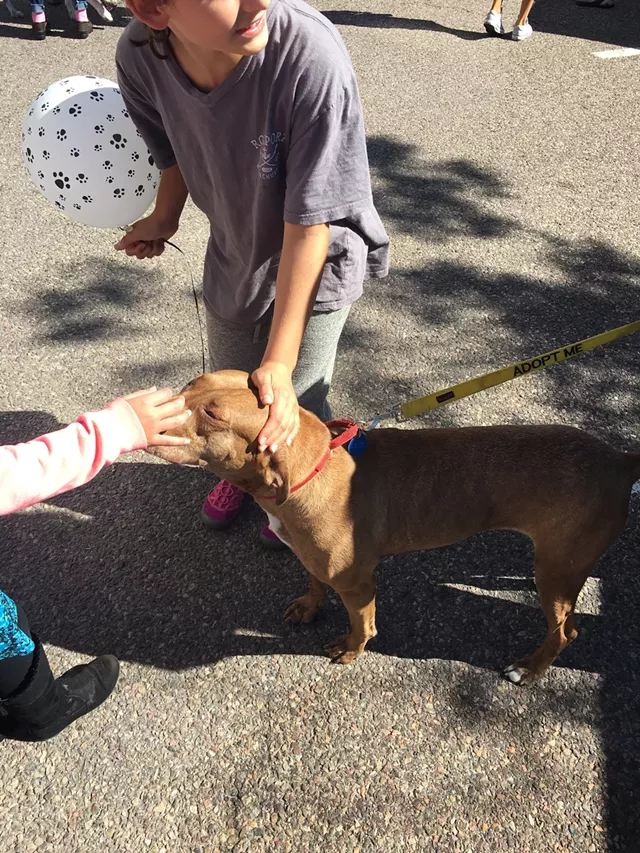 Sadie Williams
Ellie-Mae gets some love.