Amelia Marzec
Amelia Marzec performing in Weather Center for the Apocalypse
After more than a yearlong break,
Generator's Big Maker
series is back. The events bring to Burlington innovators in fields as diverse as environmentally conscious burial, biometrics and game design to talk about their work and process.
Next in that lineup is 36-year-old
Amelia Marzec
, an artist, inventor and MFA graduate of Parsons School of Design who lives and works in Brooklyn. Marzec's focus is on communications, the environment and "enabling activist communities through innovative uses of technology," according to the maker space publicity.
Many of Marzec's works pose the question: "How would we respond in the event of a breakdown in communications systems in an uncertain future?" That query might have seemed hypothetical 10 years ago, but the massive, hurricane-related power outages in Puerto Rico, the U.S. Virgin Islands, Florida, Texas and elsewhere make it all too real.
Marzec has addressed this concept in projects such as her installation
New American Sweatshop
. It functions as a manufacturing facility in which volunteers repurpose electronic waste to create communication devices for the future. In
Weather Center for the Apocalypse
, Marzec created a radio system to broadcast weather alerts, along with divinations regarding the potential for the end of the world on that particular day.
The artist will appear at Generator on Wednesday, September 27, for a workshop and a free public talk, at 3 and 7 p.m., respectively. The workshop, titled the Laboratory for What's Possible, "is a project to share knowledge on reclaiming electronic waste and to discover possibilities existing in our cast-off items that can keep our communities connected."
Seven Days
caught up with Marzec over the phone from Brooklyn as she prepared for her trip to Vermont.
SEVEN DAYS: Where did your interest in rebuilding communications — "in an uncertain future" — come from?

AMELIA MARZEC: I've been trying to be more honest about this in the past couple years. All the work I'm doing now started after I had surgeries [a few years ago]. I had lost all my hearing in one ear overnight. I had a brain tumor, and I think a lot of it is dealing with the aftermath of that. I have communication problems every day because I can't hear out of one side of my head.
It's not a major problem, but it's noticeable. I experience spatial sound differently, so I really get stuck on communication devices and building these things out of stuff that was already broken, you know? Just exploring that brokenness and maybe also trying to figure it out for myself. I worry about this. What if my hearing gets worse on my good side — how would I communicate in the future?
So, it's personal, but I see it in the rest of the world, places where people aren't able to communicate for whatever reason, or have lost the ability to do that. We have a lot going on with governments shutting down people's communications, superstorms — Puerto Rico has been offline for days — so I think it's something personal that made me focus on how that plays out in commercial communications systems.
Before [the surgeries,] I hadn't been doing a lot of art; I'd been doing a show maybe once a year. In 2009 [or] 2010 I just started working on the art. Out of the blue. I was recovering from surgery, so I wasn't going out partying. I was spending all this time by myself.
SD: What do you notice about the way that people interact with your work? How does work like this speak to a world that is increasingly inept, technically speaking?
AM: I do think that people discount the work because they don't want to engage with technology or they don't think it's for them. Those are some ideas I actively fight against. I don't know everything, but it's a learning process of how to get people started, to engage with it all and recognize how it affects their lives.
I had some weird moments when I was making the
Signal Strength
project [with] these little phones. I was sitting out on the sidewalk and people would come up and be like, "Can I use my 4G network on this?" and I was like, "No, it's a completely separate system."
The Sweatshop, that was… sometimes I would have these shows, set it up at different places, at a festival or some sort of event, and people would come by, and sometimes I would teach people to solder in five minutes, or talk with little kids, you know? Sometimes that's easier because they don't have the sense that they can't do something yet.
SD: Why call it a sweatshop? Isn't there a negative association?
AM: I guess — what's in a name? I really wanted to think about how to build these things just in my own neighborhood, in Brooklyn — how would I do that here? How would I do it in America at all, really? If we were in a disaster situation where we were cut off from the rest of the world, how would we deal with that, communicate and build new systems? The thing about sourcing parts, where would I get them? E-waste, trash, people would give me their old devices. It's sort of thinking how we're reliant on these sweatshops elsewhere.
It's a negative term, so it's a way of critiquing that structure, except I took the name of it, too. I mean, I'm not torturing people; it's a community project and the people who have been involved are volunteers. So maybe the cheapest way to do this in America is to use our trash and use volunteers.
SD: Where do you find electronic waste for the sweatshop? What kinds of things do you find? How do you determine their value?
AM: When I was doing the Sweatshop I was getting it in any way possible. Friends or family members. After a while, I had to stop because there's only so much I could fit in my apartment, but people still give me stuff. I've been doing some more work with radios recently, and a friend just dropped off a couple of really intense radio antennas. I'm trying to find things that are more specific to my workflow right now, rather than everything. It's kind of sad,
too,
because there's a lot that people are getting rid of.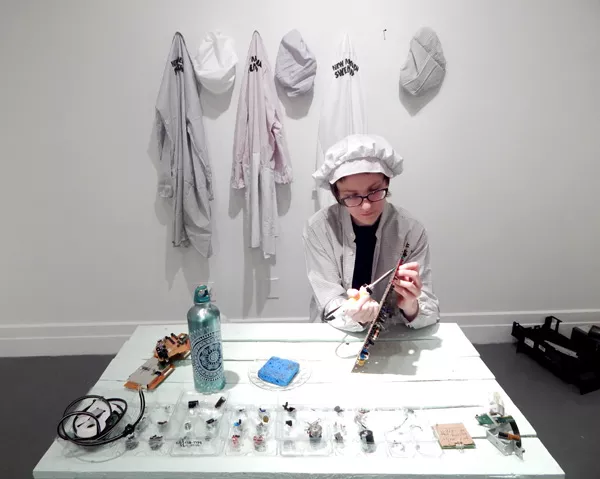 Amelia Marzec
Amelia Marzec in New American Sweatshop
SD: What are you working on right now?
AM: I just did a solo show this summer, in August, for the Weather Center for the Apocalypse, and I had a radio program as part of that. I had a radio transmitter in the gallery and that was broadcasting a two-hour radio program. I like radio because it's obsolete. People mostly listen to podcasts. Hopefully, people still have radios.
They're turning it off in Norway this year
. But everything we use is based on radio. It's how our cellphones work and Wi-Fi works. They're piggybacking data on top of radio waves.
SD: What is the Radical Networks Conference? You have a link to it on your website.

AM: Yeah, I organize it with two of my friends. This is the third year, and it's sort of like a small festival; we have an art show and people speaking and then we have some workshops, and it's all around how to use networks in a creative way. Sometimes we'll get activists talking about how to use networks, or people in rural areas [who] maybe made their own systems. We get a lot of artists trying to do something creative with it. It's trying to remove the mystique around networks. I guess that's the problem with technology.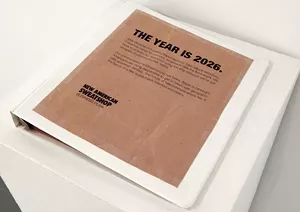 Amelia Marzec
Business Plan for New American Sweatshop
SD: How did you learn how to do all of this?
AM: You keep learning your whole life, but I think I really started to engage with technology at Parsons. I was in the MFA program there for design and technology. I think before that I really wanted to do that stuff but I didn't know how. I didn't have a language and I wasn't super confident, but that's really where it started. And it was a matter of just being like, "I'm going to try taking a class in hardware, or coding, or whatever, and if I fail out, it wasn't meant to be." I did totally fine.
And then I guess I just kept going. A lot of it [came from doing] personal projects. You learn something with every project. I think that's the best way that I learn. Just invent some project and be like, "It would be really cool if we did this," then try to figure out how to do it.