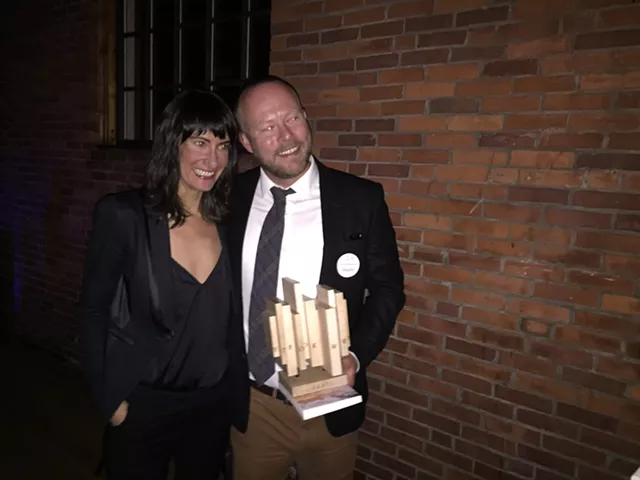 Margot Harrison
Allison Titus and Jensen Beach, holding his Vermont Book Award made by artist Jesse Cooper
At a gala in Montpelier earlier this evening, author
Jensen Beach
was pronounced the winner of the 2017 Vermont Book Award for his 2016
short story
collection
Swallowed by the Cold
. The $5,000 award is given by the
Vermont College of Fine Arts
every year to the author of an outstanding work of literature.
Poet Major Jackson, who received the honor last year, made the announcement. In addition, VCFA founding president Thomas Christopher Greene used his time on the stage to unveil a new scholarship sponsored by Phoenix Books in late Vermont author Howard Frank Mosher's name for students in VCFA's writing and publishing program.
Selected by the judging panel from eight
finalists for the award
, Beach teaches in the undergraduate program at Johnson State College and is a faculty member in the graduate writing and publishing program at VCFA. When he took the stage, he said, "I've never won anything in my life — not even a fucking lottery ticket." He tacked on praise for the college and Vermont itself, saying, "this place means a lot to me."
Swallowed by the Cold
, published by Graywolf Press, is a series of interlocking stories set in a Swedish sea village and Stockholm. In a
Seven Days review
, Jim Schley wrote, "Each [story] stands alone as an arresting work of short fiction, yet, read in combination, all of them expand and intensify as they interlock. . . . This is a shrewdly devised fiction, an intricately plotted work of art."
The Vermont Book Award is a relatively new decoration. VCFA established it in 2014 to honor "work of outstanding literary merit" by Vermont authors; Greene noted in his opening remarks that, after having his work short-listed for a Maine book award, he thought Vermont should have a similar honor. VCFA's website notes that Vermont's award is premised on its long literary tradition, which includes poets such as Robert Frost, Ruth Stone and Ellen Bryant Voigt, fiction writers such as Katherine Paterson (who attended tonight's ceremony) and many others.
Past winners include two poetry collections: Jackson's
Roll Deep
in 2016 and Kerrin McCadden's
Landscape With Plywood Silhouettes
in 2015. Jackson sat on the judging panel that awarded McCadden that honor. While it appears the cast on Vermont's literary stage may be small, the work is certainly not.

Margot Harrison contributed additional reporting for this story. Additionally, the last sentence has been reworded as of 10:37 a.m., Sunday, September 24.