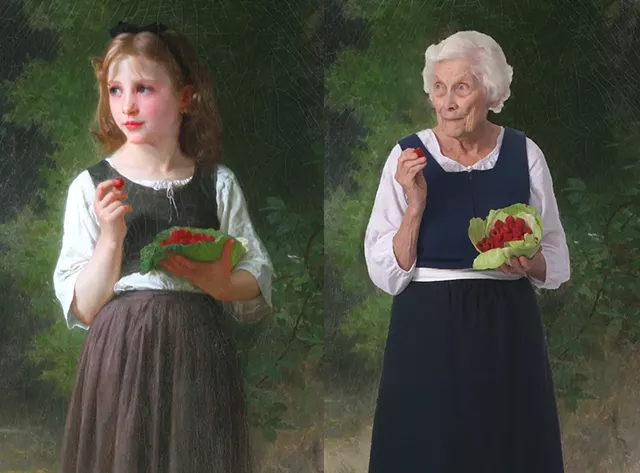 St. Johnsbury Atheneum
Left: Williams Bouguereau's "Raspberry Girl"; Right: Alice Burnham as the Raspeberry Girl
The exterior of the
St. Johnsbury Athenaeum
received a small makeover last
week,
when staff members swapped out an entryway banner depicting Williams Bouguereau's "Raspberry Girl" for a slightly different version. (The 1890 original is housed in the gallery.)
Instead of the young girl clutching a lettuce leaf full of berries, the pastoral landscape now feature the figure of 91-year-old library docent Alice Burnham.
Athenaeum development officer Scott Davis says the concept for the project came to him as library staff took down the painting of the "Raspberry Girl" for routine cleaning.
"It just struck me when I looked at it: I think Alice would look good in this painting, transitioning from this radiant young girl to this beautiful older woman," he explained
Rather than deface a 100-plus-year-old oil painting, Davis opted to update the banner, which was installed earlier this summer.
Burnham has been a docent for more than 15 years, Davis says. She is also a poet and published her first volume of poems,
Living for Others
, last year at the age of 90. Previously, Burnham was a kindergarten teacher. "She's loved around here," Davis notes.
Bob Jenks took the photograph of Burnham and Davis photoshopped her into the image of the painting.
"We hung it on Thursday afternoon before we opened, and immediately people came in and said 'Oh, is that Alice on the banner?'" Davis explains. "[She's] tickled to death about it."
Davis says the banner will welcome attendees to the museum for another month until the library hangs up a new set of standards for fall.
St. Johnsbury Athenaeum
"The Domes of Yosemite," Albert Bierstadt, oil on canvas
In other Athenaeum news, a prominent painting from the gallery's collection is leaving the state for a small but necessary makeover. "The Domes of Yosemite" by Albert Bierstadt hasn't left the facility since it was installed in 1873 in the then-new art gallery. It has since become the center of the Athenaeum's art collection and is one of the largest Bierstadt paintings in existence, according t to Scott.
And it
is
big — almost 10 by 15 feet. "It's very heavy," Scott says.
After outside conservators found tears due to age and weight in the upper corner of the painting, the Athenaeum decided it was time to send the piece out for much-needed upkeep.
It will be taken off its frame and sent to a conservation facility in Miami in the first week of October. It won't return to the Athenaeum until next summer.