File: Matthew Thorsen
John Killacky
In a release this evening, Burlington's
Flynn Center for the Performing Arts
announced that its executive director, John Killacky, would be stepping down from his role in June 2018. Killacky arrived at the Flynn in 2010.
During his tenure, the release says, the Flynn flourished, "growing to a $7.7 million operating budget while maintaining the organization's commitment to presenting exceptional artistic, educational and community engagement programs."
In addition to securing significant grants for the performing arts facility, Killacky is perhaps proudest of the nonprofit's commitment to access and inclusiveness. The Flynn works with 75 human and social service agencies to provide discounted tickets for their clients; of the 38,000 students who annually attend shows, 7,300 attend for free; and the organization provides $30,000 in scholarships yearly for kids to participate in camps and classes.
Reached by phone for comment, Killacky said, first of all, that "all things are good" and he's "not going anywhere." While he wouldn't call this transition a retirement, Killacky noted that when he was interviewed for the ED position in 2010, he told the board that, if hired, he would stay "for five to seven years, and then my service would be done."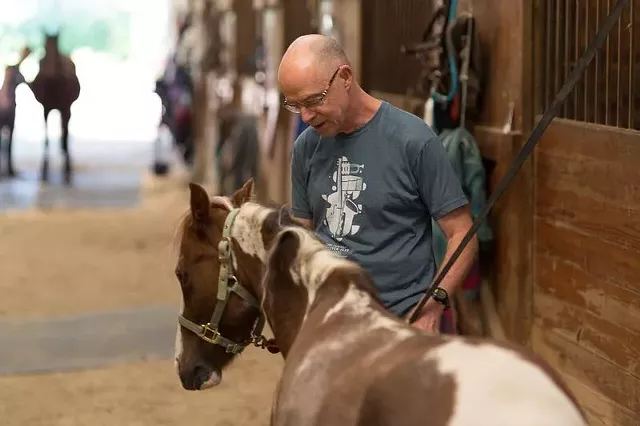 Courtesy of Greg Merhar
John Killacky and Raindrop
Killacky believes in stepping aside to let a new generation come in. "I've been talking with the board about this for a while," he said. "It's a $7.7 million operation; you don't just walk out.
The director says he loves Vermont, where he's made a home with his husband, writer, editor and actor Larry Connolly, his beloved pony, Pacific Raindrop, and other pets. "I want to remain in Vermont," Killacky said firmly.
"In June 2018, I'll be 66," he said. "I don't want to run another arts organization, but I have all these things I still do and plan to do." Filmmaking is one of them. (
Vermont PBS
recently broadcast two of his earlier documentaries,
Holding On
and
Janis Ian Live From Grand Center
.)
"But," Killacky emphasized, "I still have a job to do until June, running this organization. I can't know what comes next until I finish my work here."
Killacky conceded it was unnerving to "think what I'm going to do and not have an answer — it's terrifying but also liberating."