It's Monday, which means it's time for your weekly dose of locavore levity: the Joke of the Week! This week's joke comes from Burlington's Lindsey Haddad. Take it away, Lindsey…
We need to stop saying 30 is the new 20. If that were literally true, that'd be like Daylight Saving Time for getting older. And I would much rather have that extra hour of sleep over another 10 years of worrying about my credit score.

About That Joke
Says Haddad: I heard that phrase so many times in the six months before I turned 30. Every time I heard it, I just kept imagining that on my birthday I'd suddenly transform into 20-year-old Lindsey. I don't think anyone ever names "my 20-year-old self" as what they want to be when they grow up.
Meet the Comedian, Lindsey Haddad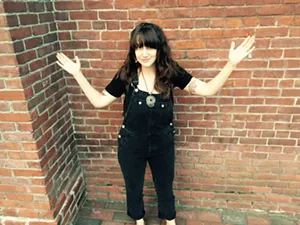 Courtesy of Lindsey Haddad
Lindsey Haddad
Lindsey Haddad is an improviser, sketch writer/actor, and standup comedian all in one 5-foot-2-incg package. She performs improv frequently at the Vermont Comedy Club. Fresh off a residency at VCC, her sketch/improv group,
Leftover Society
, is currently writing and filming sketches.

See Her Live
Leftover Society perform at the Vermont Comedy Club in Burlington on Sunday, September 24. The same night, Haddad will appear at Cup of Comedy: A Standup Showcase at Radio Bean in Burlington.
Think you can do better?
We're always looking for jokes from local comedians. We publish one joke each week, and you can read through previous ones
here
.