It's Monday, which means it's time for your weekly dose of locavore levity: the Joke of the Week! This week's joke comes from New Haven's Katie Gillespie. Take it away, Katie…
I got ghosted for the first time this year. I went on a few dates with a guy and I was into it. And then I never heard from him again!
But Vermont is small and I knew I would see him again. So I practiced the perfect, confident head nod and half-smile to let him know that I was over it and he could never have me back.
It happened! I saw him! Except, instead, I was sitting in my car peeling and eating hardboiled eggs. I think the message was the same, though.
About That Joke
Says Gillespie: A real story from the dating trenches. I wish my dating life wasn't the constant source of material that it is.
Meet the Comedian, Katie Gillespie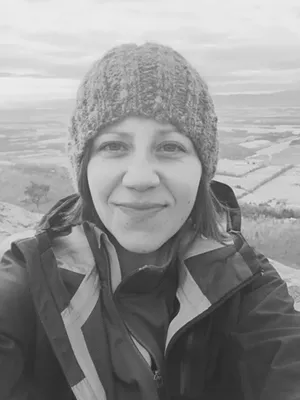 Courtesy of Katie Gillespie
Katie Gillespie
Katie Gillespie
started doing standup in Chicago and moved from the city of 2.5 million people to a town of 1,500 in Vermont. She enjoys hiking, beer, volunteering with old people, and hanging out with her dog. She tries to find humor in everything, but especially the hard stuff, like death and dying. So, light and breezy.

See Her Live
Gillespie will appear at Desperate for Approval: A Reverse Roast on Sunday, October 1, at the Vermont Comedy Club in Burlington.
Think you can do better?
We're always looking for jokes from local comedians. We publish one joke each week, and you can read through previous ones
here
.