Courtesy of Sarah Letteney
"M Is for Magic" by Sarah Letteney
Hope you caught our story for this week's Seven Days, which surveys the 25-year history of the South End Art Hop — an extravaganza that happens to be (insert drumroll) this weekend!

Given the scale of this massive event, we thought this month's First Friday Roundup might best serve you with a handful of our personal selections for this crazy weekend, September 8 through 10.
The Art Hop reportedly attracts upward of 30,000 people (though not all at once). You'll want to roll in prepared. So we've helpfully included page numbers after each event or happening listed here that corresponds to the Art Hop guide created by SEABA (the South End Arts and Business Association, which produces the Hop). Pick up a copy at participating venues before diving in.
Note: Even if you don't use this guide, do take this advice: Wear comfortable shoes and pack water and a snack. Though both are available along Pine Street, the lines can get long. Take a breather at some point. Above all, enjoy the party — and, of course, the art.

Dealer.com's STEAM Parking Lot Party
This will be Jill Badolato's last Art Hop with Dealer.com. The former director of corporate social responsibility spearheaded numerous colorful public art projects locally, and we predict this will be no exception.

Although she was among the employees recently laid off by the tech company, Badolato is following through with her commitment to Dealer's celebration of STEAM education — that's science, technology, engineering, arts and math.

Among the festivities will be ongoing demonstrations of the world's largest Spirograph, constructed by Jake Blend — '90s babies, you know what these are. This one is so big, you have to ride it. Also expect a live fire performance and something called "LED periodic table hula hooping." We don't know what that is, but we want to see it. (Page 13)
Barge Canal Market
Last year, our first stop at the Art Hop was Julianna Brazill's Artival — an art carnival. The art-centric, old-time game zone is back this year as "Phony Island." Pop in and cool down at the fortune teller's booth (a perfect Instagram opportunity) or in one of the shop's gorgeous midcentury chairs. (Page 15)
Sadie Williams
Rachel Elizabeth Jones at last year's Artival
Soda Plant
We can't name the number of artists who will show work in this building, which turns 100 this year. Stop in early, because it can get crowded.
Maybe start off with a captivating cocktail from Alice and the Magician, then wind your way through the maze of businesses and galleries. Conant Metal & Light is sure to shine. The S.P.A.C.E. Gallery will exhibit works by resident studio artists, alongside a large group show called "Represent," in which the participants self-curate their own allotted wall space.
If you happen to miss out on Friday night, head over on Saturday to check out the Vermont International Museum of Contemporary Art + Design, a mini mobile museum, and get a tintype portrait — for $50 a pop — by Jeff Howlett.
(Pages 15 and 48 and on Facebook.)

Courtesy of Matt Morris
"Mr. Biglysworth" by Matt Morris, on view at the S.P.A.C.E. Gallery
'Sleeping Babies/Social Sculpture: Baby Monitors'
In late July, local choreographer Erika Senft Miller handed out color-coded baseball caps to about 200 folks, whom she then led through a site-specific performance on an abandoned road in the South End. Sound intriguing? It was. The performance was inspired by Burlington artist Clark Derbes' parenting/painting multitasking ritual of "self-commissioned" works. It included a cast of dancers and frolickers, custom costumes, music composed by Matt LaRocca, and lots of skateboarding.
Featuring photographs, a documentary film premiere and live music from Derbes and LaRocca, this event kicks off the afterlife of Senft Miller's fleeting work. Try to grab one of the beautiful zines/programs available at Solidarity of Unbridled Labour on Friday evening.
More info here.
Bobbin Mills Community Center
The Voices of Home project combines audio narratives of Burlington Housing Authority residents with their portraits, painted by South End artist Corrine Yonce. With broad brush strokes, Yonce gives the stories in the recordings a place to land, visually, making them all the more compelling. Some BHA residents will also display their work.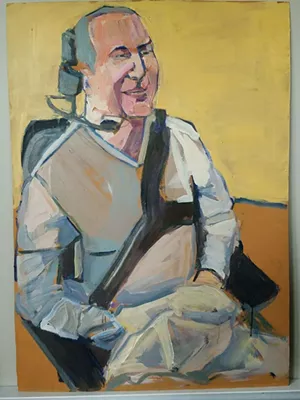 Courtesy of Corrine Yonce
"Andrew Bolognani" by Corrine Yonce for the Voices of Home Project
Additionally, Kylie Dally will demonstrate her new, participatory project for BHA residents, in which she paints using a projection of collected objects onto canvas. Her project is supported by the Burlington City Arts Community Fund. (Pages 15, 16, 23, 24, 30, 51)
The Hive
This congregation of artist studios behind Speeder & Earl's Coffee on Pine Street includes printmaker Jabari S. Jones, sculptor Lydia Kern and illustrator Sarah Letteney, among others. Jones' prints wax political, Kern has a penchant for bones and glitter, and Letteney's drawings are both macabre and adorable — without being cheesy. We dig them. (Page 46)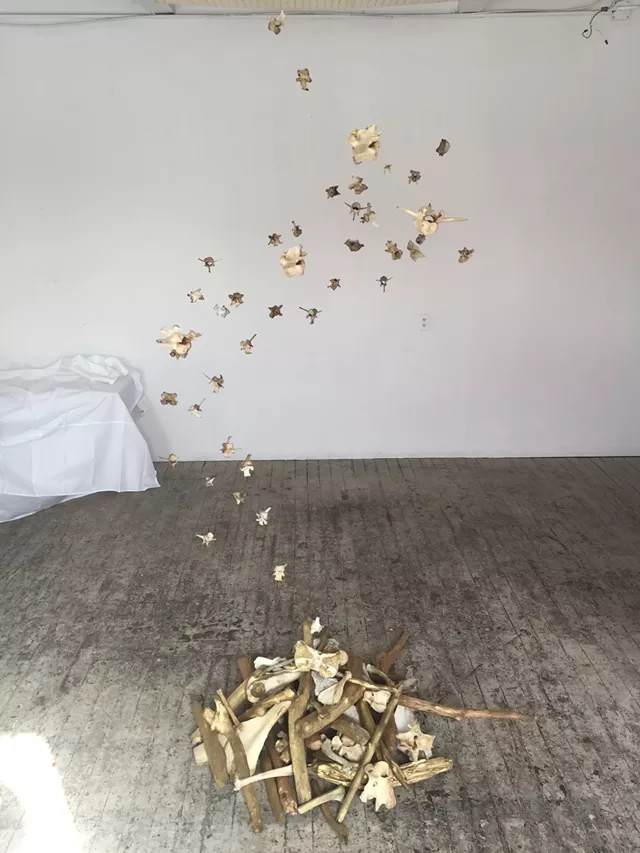 Courtesy of Lydia Kern
"Fleet" by Lydia Kern
Roundtable on the South End's Future
Yeah, there's been a lot of dialog about the South End in recent years. But this community discussion on Sunday morning at
Arts Alive Gallery @ Main Street Landing has the distinction of bringing together far-flung artists and entrepreneurs who witnessed — and contributed to — the birth of the area as a creative hub in the 1980s and early '90s. In conjunction with the exhibition of works by "founders" called "Crunch + Funk," the public is invited to hear what the participants have to say about the early days — and the next three decades. (Page 30)
All-Night Meditation (& Napping)

Maybe you want to clear your head before cramming it chock-full of sensory stimulation, or perhaps you just want a little rest between attractions. Whatever your state of mind, Railroad Apothecary wants to help you enjoy the Art Hop healthfully — with yoga, meditation, video installation and an all-nighter more restful than the ones you pulled in college. (Page 16)
Paint With Your Pup!
Art does not discriminate on the basis of species. For $10, Play Dog Play doggie daycare will help you and your pooch (or someone else's) co-create your very own painting. For $10 more, you'll have access to grooming supplies to clean up the mess. Seriously, how often does an opportunity like this come along? (Page 29)
SEABA Juried Show
The juror for this year's show is New York gallerist Asya Geisberg. She selected 35 works by local artists that are now hanging in the SEABA Gallery and will select first-, second- and third-place winners from that lot. (Page 17)
Jabari Jones
"Unapologetically political art" print by Jabari Jones on view at the Hive