Luke Awtry
Steve Hadeka
Local woodworker Steve Hadeka recently appeared on the YouTube series "
Woodshop Wars.
" Each episode of the show, which is organized by Mike Rapp of Missouri-based
Mad Raven Woodworks
, pits four makers from around the country in competition against each other, all of whom are assigned the same task. Hadeka's installment premiered on Thursday, August 10. His challenge: To make a wooden spoon.
As it turned out, not all of the competitors had made spoons previously. Fortunately for Hadeka, who operates the Burlington woodworking shop
Pleasant Ranch
, he had.
"This is not my first spoon, but I wouldn't exactly call myself a master spoon-smith," Hadeka recently told
Seven Days
. "My goal with the piece was to pack in as much technique as possible, while still allowing my personal style to shine through."
His spoon featured a slender handle with dark inlay in the shape of a feather.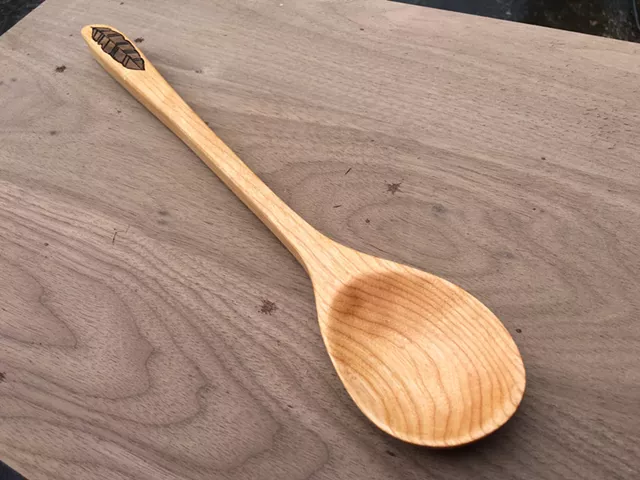 Steve Hadeka
Wooden spoon by Steve Hadeka
In an email, Rapp explained that the series will consist of three rounds. The six-episode first round concludes on September 14. (BTW, viewers can cast votes for their favorite makers in the comments section of
each episode on YouTube
.)
Round two, which begins in late September, will feature the winners of each first round episode. The third and final round, slated for late October, is a head-to-head competition between the top two makers.
In the meantime, Hadeka displays his woodworking throughout September at Penny Cluse Café in Burlington. The show, called "Riffing on the Modern Birdhouse," feature his birdhouse designs, which nod to mid-century, modern, Scandinavian and Polynesian architectural styles.
(Disclaimer: Steve Hadeka was a
Seven Days
employee from 2006 to 2014.)