Courtesy of Steve Lemme
Steve Lemme
Super Troopers
fans, the wait is nearly over. After years of speculation and rumors — and a
ridiculously successful 2015 crowdfunding campaign
to get the movie rolling —
Super Troopers 2
is really happening. The long-anticipated sequel to the 2002 comedy classic about a group of bumbling Vermont State Troopers is unofficially slated for a spring 2018 release. We know, we know: You want it
right meow
. But according to actor
Steve Lemme
— aka trooper MacIntyre "Mac" Womack — it's gonna be worth the wait.
"It's going to be our widest release," says Lemme in a recent phone call with
Seven Days
. "And it's testing better than any movie we've tested. It came out fantastic."
Lemme is a founding member of
Broken Lizard
, the comedy team behind the
Super Troopers
movies and cult favorites such as
Beerfest
and
Club
Dread
. He says that while a lot has changed in the world since last we saw troopers "Thorny" Ramathorn (Jay Chandrasekhar), "Rabbit" Roto (Erik Stolhanske) "Rod" Farva (Kevin Heffernan) and Mac, not much has changed for
them
.
"Well, we do all have cellphones in this movie," he says. "But otherwise, it seems like time has stood still for these state troopers. Which is good, because we didn't really want to answer the question of where these guys have been for the last 15 years — although we do answer it."
Lemme performs five sets of standup comedy in three nights at the Vermont Comedy Club in Burlington this weekend — one show on Thursday, August 17, and two each on Friday and Saturday, August 18 and 19. While he wouldn't tell us where Farva and co. have been all these years, he did give
Seven Days
the down and (really) dirty details on ST2 and why his comedy group is so fixated on Vermont.
SEVEN DAYS: So, Super Troopers is set in Vermont. What is Broken Lizard's connection to the Green Mountain State?
STEVE LEMME: Our first movie was called
Puddle Cruiser
. And one of the actors had a house right on the border of Vermont and Canada. So, after we made the movie, we went there for about a week to relax. And we went over the border to Canada every day. We'd have the poutine and the Cuban cigars and the strong Labatt's XXX beer.
Anyway, we later went to a bachelor party at that house. It became the home base for that party. And it turned out to be the inspiration for the
opening scene of Super Troopers
.
SD: Really? I think I can guess, but how so?
SL: We rented an RV and decided to go into Canada to experience all the delights of Québec. And what happened was, the Canadian border guard saw a joint on the dashboard of the RV. And he asked everyone whose joint it was and no one wanted to take credit for that. So he asked everyone to file off the RV. And there were mushrooms.
SD: Uh-oh.
SL: So, one guy was holding all of the mushrooms for the entire bachelor party, like, 12 doses of mushrooms. And he got so freaked out that he ate all of the mushrooms in the back of the RV.
SD: Uhhhh-oh.
SL: We were put in a holding cell on the Canadian side of the border. We were there for about four hours. And this poor kid's eyes are just black, his pupils are so dilated. So, finally, his big brother, seeing how messed up this kid was, he admitted to the border guards that it was his joint. So they said, "Well, you're going to have to turn around, head back home and you're not allowed in Canada for seven years, eh."
And we were like, "
That's
the punishment?"
SD: How was the kid?
SL: He tripped for 48 hours. And he had no memory of it, because he was so dosed up. Though he did say that his cheeks hurt from smiling the whole time.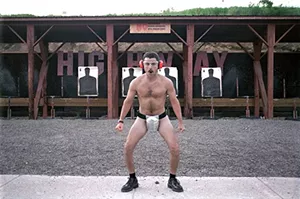 Courtesy of Broken Lizard
Steve Lemme as Mac
SD: Is he OK now?
SL: He is OK now. He survived. But we were chaperoning him for two straight days. He was awake the whole time, so we had to take shifts watching him.
SD: So that's why Super Troopers is set in Vermont, because of a bachelor party gone awry?
SL: Well, the idea for
Super Troopers
came … You know how there's that one summer when you're, like, 24 and all of your friends are getting married? So we were driving around a lot one summer in Jay [Chandrasekhar's] car and we kept getting pulled over.
This one time, we were stoned. And we were like, "If that cop had any idea how stoned we were, he could have really fucked with us in so many different ways." So that was sort of the genesis of the idea.
But then we were in Vermont and we're like, "Imagine if you were on the loneliest stretch of road and you're a police officer and there's just no crime happening. What would you do to kill the boredom?" And we thought Vermont would be a great place to do it. Like, who are these Vermont troopers? Are they as tough as the rest of them? It turns out that yes, yes they are.
Courtesy of Broken Lizard
The cast of 'Super Troopers 2'
SD: In a recent interview Kevin revealed that there's a love scene in ST2 between Mac and Farva. Kevin called it the "nastiest love scene in Broken Lizard history."
SL: Yeah, it's terrible. I won't give away why we're doing it. But ever since Kevin's tuna can — meaning his penis, which is wider than it is long — was shown in the first
Super Troopers
, in that
powdered sugar shower scene
, we realized that when you write stuff, you are gonna have to perform it one day.
SD: So … how was it?
SL: You know, you can tell a lot about what kind of a lover a person is based on how they do their love scene. There's an etiquette when you do a love scene, something called "mouth maintenance." You brush your teeth, pop in a breath mint, put on lip balm. You make it nice for your partner. Kevin did none of that stuff.
It was burrito day at lunch that day, so he ate two burritos before we filmed the love scene. The gum he was chewing … He does this thing called "Farva gum," where he gets so into character as Farva that he chews the same piece of gum all day long. So he gets to set at 6 a.m., chews the gum for six hours, takes it out at lunch, then puts it back in in his mouth and chews it for another six hours. Then he swallows it. He's method.
SD: Clearly.
SL: So, when it came time to shoot the scene, all the action was gone in that gum. The first kiss … I can still taste the salsa in his mouth. The second take, his mustache was just wet. And he says it's because it was burrito day and he was just sweating. But that's no good for me.
SD: And the third take?
SL Our tongues touched. I'm pretty sure he did it on purpose, just to gross me out. Then, on the fourth take, he pushed the little nasty piece of gum right in my mouth. His claim there was, "I was done with that."
SD: Good God. Was there a fifth take?
SL: He reached around and gave me a shocker. Just stuck his fingers up my butt.
SD: Oh, my…
SL: Making matters worse is that, usually when you shoot a love scene with somebody, it's a closed set, because you want to be respectful. It's intimate. But when Farva and Mac are in a love scene, it's like a UFC steel-cage match. The entire crew was there and they're shouting stuff, like when he gave me the shocker. The whole thing was very unpleasant. And then it started to rain.
SD: Well, that's kind of romantic, at least.
SL: So, we had to shoot it again in the rain. Then, after we wrapped, the director, Jay Chandrasekhar, confessed to me, "Actually, we got it on the first take."
SD: So you're telling me that Kevin is not a considerate lover?
SL: Not at all. Not at all.
SD: Is there a release date yet?
SL: There is, but I can't tell you what it is. Here's what I can tell you: It's springtime and there's a very obvious date, which happens to fall on a Friday this year.
SD: Last question: Would you rather be Sam Elliott's voice or his mustache?
SL: I mean, his voice is so beautiful. But his mustache … it's
so
beautiful. And the mustache gets to hear the voice, the voice goes through the mustache. And that mustache has seen a lot, I guarantee you. So I think I would rather be the mustache.