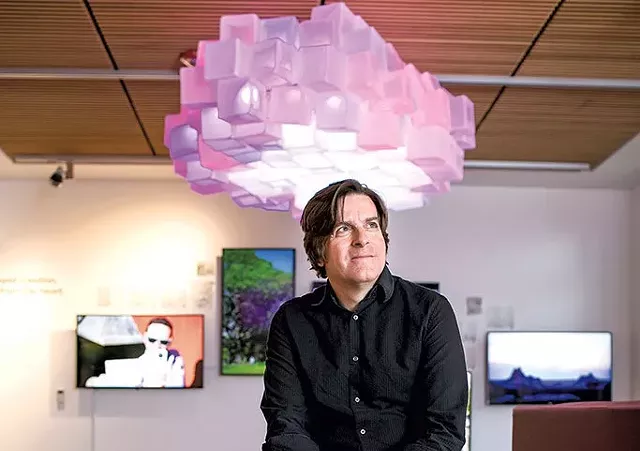 Oliver Parini
Chris Thompson
Updated at 11:09 a.m., Friday, August 4, 2017
On Thursday, Burlington's
Generator
announced that Chris Thompson will assume the role of executive director on August 24. The announcement comes on the heels of
Lars Hasselblad Torres' departure
from the nonprofit maker space in Burlington's South End.
Interim director Michael Metz states that Thompson has "over 20 years of experience in corporate technology management and 10 years in
nonprofit
institutions focused on the intersection of art and technology." Those umbrellas include a five-year interlude as the curator of
Burlington City Arts
.
Thompson is a founding board member at Generator and currently serves as the director of the
Champlain College Art Gallery
, a public venue that has exhibited numerous contemporary artists. He received his MFA in emergent media from Champlain College in 2014.
"The initial concept and design of Generator
was
done as my thesis project for my MFA program," Thompson says in the press release Metz issued earlier today. He adds, "It has been gratifying to help bring that original vision to life and watch it grow, and I'm excited to have this opportunity to take it into the next phase of its evolution."
Generator, which was founded in 2014, moved from Memorial Auditorium to Burlington's South End in January.
Thompson says the management of the Champlain College Art Gallery, as well as upcoming shows and residencies with visiting artists, likely won't change. Thompson notes that the next show, a series of outdoor sculptures by Burlington architect Keith Wagner, opens on August 17.