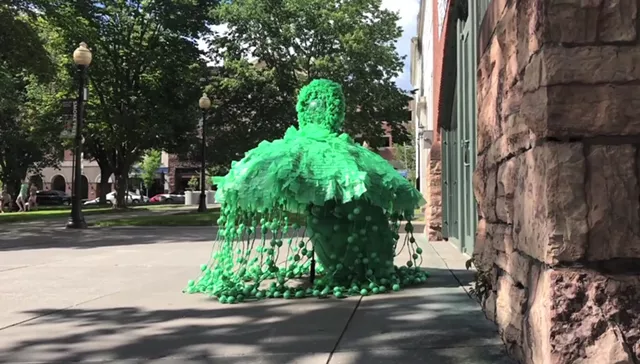 Kate Donnelly
Out for a stroll with "Green Umbrella," by Kate Donnelly
Hi, art-loving friends! Welcome to our newest series on Live Culture. Joining Playtime, Style Points, Special Collections and others, meet the First Friday Roundup.
Each month, we'll showcase a few of the First Friday art shows and events we're especially excited
about in
Burlington and beyond. And we'll include a suggestion for a musical performance to top off your night — maybe even a great bar for a cocktail or casual drink.
As it happens, the
Seven Daysies
awards party is this Friday at ECHO, the Leahy Center for Lake Champlain, in Burlington. But what follows is what we would do if we weren't going there.
Basic Burlington
Two Lenses
Karma Bird House Gallery
Vaune Trachtman and Matthew Peterson
From left, images by Vaune Trachtman and Matthew Peterson
Matthew Peterson and Vaune Trachtman have teamed up for a photography show at Karma Bird House Gallery. Peterson recently exhibited work in Burlington City Arts' show "Ready. Fire! Aim." His high-contrast film images explore social and physical landscapes with a tender and spontaneous gaze.


Trachtman works with an LG flip phone, scaling up the already grainy images she captures until they absorb the viewer. Her images are full of movement, implied in the ghostlike blur that shows just how many points in time the subject occupied during the short wink of the shutter.


Peterson's photographs feel slower, regardless of how active his subject is. Whether his lens is focused on a man mid-keg-stand or a stationary patch of flowers, the resulting image feels like a quiet commemoration or devotion. We're excited to see how, when staged side by side, the artists' divergent processes and products will interact.
Interpose
New City Galerie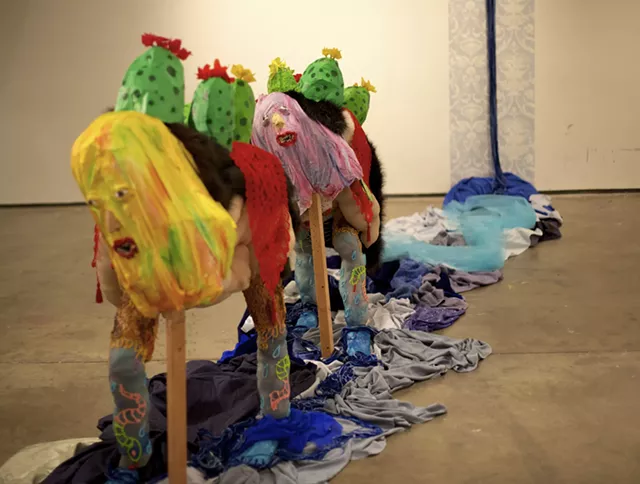 Este Puerta
Installation by Este Puerta
New City Galerie rarely fails to impress, and we predict "Interpose" will pose no threat to the small gallery's already stellar reputation. This show, curated by artist and gallery assistant Susan Smereka along with co-curators Lydia Kern and Joseph Pensak, brings together a slew of artists who we're psyched to see showing work in the same room.
Here's the lineup: 2016 Barbara Smail Award winner Wylie Sofia Garcia, whose recent foray into painting has proven as exciting as her past endeavors in textile; Lucy Leith, a fashion designer and native Vermonter currently on leave from the School of the Art Institute of Chicago; Kate Donnelly, whose elaborate performance art disrupts built environments with fantastical costumes that border on living sculpture; Estefania (Este) Puerta, whose sculptures and paintings are a cacophony of color and humanoid form that feel strangely like home; and Molly Green, an artist whose images defy typical representations of the female form — or any form, for that matter.
The verb "interpose" means "to place or insert between one thing or another." It's an intervention of sorts between the body and environment, a meditation on the ways in which we filter, intervene with or manipulate that which is outside us before it reaches our body/brain, or vice versa. If this show is what we think it is, expect an otherworldly deliberation on the tricky business of feeling both human and alien — and maybe monster — within a vast cosmos.

Beyond Burlington
"Bread & Puppet: An Emergent Mosaic"
Plainfield Community Center
Bread and Puppet Theater
is a Vermont institution in a category all its own. Among its many gifts are the lineages of veteran artists and performers who continue to produce B&P-influenced works both in and out of state. This community-sourced exhibition at the Plainfield Community Center, now in its sixth year, gleans a range of materials linked to the circus "family." Among these are current works by Mark Dannenhauer and a display of puppets from the touring show "The Story of the Mountain Man From Chile."
Musical Arts
For the after-party, nothing's better than a slice of pizza.
Seven Days
music editor Jordan Adams suggests checking out DJ
Disco Phantom
at Manhattan Pizza & Pub, and/or bouncing over to SideBar for
Crusty Cuts
and
Loupo
.
Cheers, folks. Enjoy your Friday evening.