It's Monday, which means it's time for your weekly dose of locavore levity: the Joke of the Week! This week's joke comes from Plainfield's Cat Klarich. Take it away, Cat…
RadioShack declared bankruptcy a second time. I guess no one told them video killed the radio star. We're not partying like it's 1999 anymore.

But three of Donald Trump's companies declared bankruptcy a total of five times! RadioShack can declare bankruptcy three more times and still become president of the United States.

About That Joke
Says Klarich: It's not that absurd! I'd vote for RadioShack over Trump.
Meet the comedian, Cat Klarich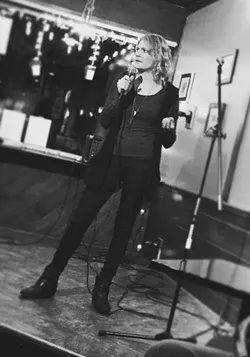 Courtesy of Cat Klarich
Cat Klarich
Cat Klarich is a native Vermonter who, despite her dirty mind, delivers clean comedy. She enjoys making people laugh, riding her motorcycle, and eating bacon.

See Her Live
Klarich will compete in the Vermont's Funniest Comedian competition at the Vermont Comedy Club in Burlington in September.
Think you can do better?
We're always looking for jokes from local comedians. We publish one joke each week, and you can read through previous ones
here
.