Sadie Williams
The Book Nook
Artist
Susan Smereka
has a thing for books. They make an appearance in her work in myriad ways: handmade volumes with "rogue" binding thread twisting across otherwise pristine pages, store-bought books altered and transformed, 20 years of journals dissected, read, and sewn together into massive accordion-style tombs.
But this April, she embarked on a much different venture, the Artists' Book Shop. With some curatorial input from Michael Shoudt, Smereka has installed a small library of artists' books in the hallway of
New City Galerie
in downtown Burlington, where she is head art handler and assistant curator. Two ledge-like shelves feature an array of volumes ranging in origin from San Francisco to Hong Kong. All cost under $35. Although Smereka says none have sold yet, they are most definitely available for purchase.
Artists' books are a distinct genre of publication; they're a medium of expression in which the artist uses the form or function of books as inspiration. Unlike a catalog, which is "a list showing works that exist independently of the book," Smereka says, an artists' book is an artwork unto itself. "It's looking at how images related to each other, an exploration of images in the context of a book," she elaborates.
It's a particularly accessible form of art that invites viewers to have an intimate experience of a particular artist — by literally holding their work. That's an exciting departure from traditional venues, which often discourage direct contact with artwork.
Lydia Kern
Susan Smereka
Smereka says she was inspired to build the nook by a seven-month stay in San Francisco. "They have so many funky little kinds of bookstores and different kinds of publications, artist-made books of every variety," she says. She completed a six-month residency at New City in 2016 and says gallery owner Joseph Pensak was supportive of the venture when she pitched it to him.
The current selection comes from creatives Smereka has met in her travels. "The next push is just to get more books," the artist says, "to look to people I don't know. But the bigger vision is to have curated shows or themes."
Some books in the nook are collections of loose prints such as "
Strange States of Matter
" by
Tom Bonauro
, printed by John Sullivan of
Logos Graphics
in San Francisco. Others compile photographs in a handheld format, like the book by
Misha de Ridder
called
Dune
. Published by Burlington-born photographer
Shane Lavalette
, it captures the "barren and tormented nature of the dunes" of Holland through soft, atmospheric photographs.
Smereka has a book of her own in the mix called "Not Not Still," which juxtaposes line drawings with single words "collected from this one book I read," she said.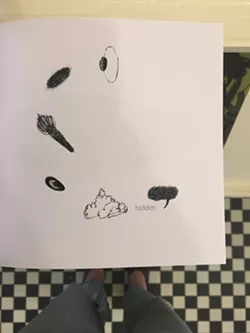 Sadie Williams
A page of Susan Smereka's book "Not Not Still"
Pensak supports the venture in part because he "adores the genre," but also because he has noticed a relative dearth of venues for artists' books in Vermont. "Visiting galleries in Montreal," Pensak says, "you'll notice [that] almost every one has a space for artists' books. Given the many artists in Vermont who are working with books as a medium, we wanted to fill that gap."
Smereka says the gallery takes 30 percent of sales, the rest goes to the artists.
Sales are handled by Pensak or any resident artist working in the gallery on a given day.

Correction, August 7, 2017, 11:53 a.m: This post was updated to include more accurate information about the percentage of sales received by the gallery.