It's Monday, which means it's time for your weekly dose of locavore levity: the Joke of the Week! This week's joke comes from East Orange's Bitsy Biron. Take it away, Bitsy…
I love fashion. I especially like to wear exotic clothing from other countries … and then I like to trivialize them with a T.J. Maxx blazer! Just to lean into my white privilege. Cuz those colors and patterns might actually have some cultural significance to somebody somewhere. But, to me, they are just simply adorable.

About That Joke
Says Biron: I starting feeling weird about wearing a Guatemalan tunic someone gifted to me. It got me thinking about cultural appropriation and how we as a culture know so little about the meaning of things we adopt from other cultures.
Meet the comedian, Bitsy Biron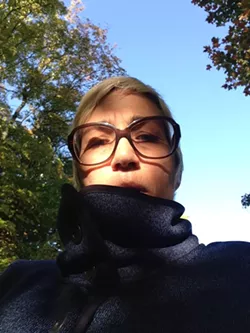 Courtesy of Bitsy Biron
Bitsy Biron
I am a comedian and have been in the Burlington scene for the past three years. I am 55 and have spent most of my life as an artist and musician. My straight job is rehabilitating people who come out of jail. I am also a mother.

See Her Live
Biron performs on Tuesday, August 22, at the first-ever comedy showcase at ZenBarn in Waterbury Center.
Think you can do better?
We're always looking for jokes from local comedians. We publish one joke each week, and you can read through previous ones
here
.