Lucy Leith
Lucy Leith's Trilobite Coat
Twenty-one-year-old
Lucy Leith
hasn't wasted her year off from the
School of the Art Institute of Chicago
. The fashion student is half way through her studies — she moved back to her native Burlington in May 2016 and plans to complete her education in the fall. Since February 2017, she's been a driving force in developing the sewing and textile program at Burlington's
Generator
maker space.
When she's not looking for new teachers or leading workshops at the South End organization, Leith volunteers at
Burlington City Arts
,
works as a teaching assistant for area artist
Kate Donnelly
and freelances as a gardener.
Sadie Williams
Lucy Leith with Bina48
Leith also can claim fame as the first designer to craft clothing for
Bina48
, a sentient robot that made a recent appearance as a guest "speaker" at Leith's Stitch and Bitch series, which took place at Generator every Wednesday from April 12 to June 7 of this year.
I caught up with the young designer over a cup of coffee to hear more about her work.
SEVEN DAYS: When did you start sewing clothes?

LUCY LEITH: In middle
school
I did a wearable-arts camp with
Kate Donnelly
, who I now work for. That was fun. I was really into duct tape at the time. And I really liked the idea of making my own clothes, because I never liked shopping. At the end of that camp, we got to be in [the STRUT Fashion Show] and that was really fun. I saw that there was a girl who was even younger than me and had her own line, and I thought,
I want to do that.
That was 2010. I didn't know what I was doing. It was really fun.
SD: Your website says you design for the "modern nomad living between a fantasy and reality world." Where does that come from, and have you met such a nomad?
LL: I don't know if I need to change that — I haven't thought about that person since last school year. But I'm still really into the idea that your clothes can be your home, that you could just pack up and take everything with you.
SD: Do you think that's an idea you'll come back to?
LL: Yeah, I think it's always an idea I come back to.
SD: So, you designed an outfit for a robot with no body. That must have been challenging.
LL: Yeah, I was really interested in what she thought of her body, or lack of body, and how she presented herself in the world as both a human and a robot. I was interested in the idea of passing, because I'm biracial, so in different
scenarios
I might pass as white or as Asian. It was really nice to talk to her and know that she's not trying to pass as either a human or a robot; she's just there, living her best life.
But it was really difficult to talk to her about her appearance, because she doesn't really have that knowledge.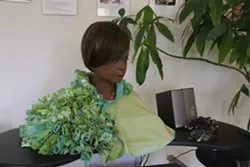 Lucy Leith
Bina48 wearing a top designed by Lucy Leith
SD: Was the process, designing for a robot versus a person, different than your typical visioning process?
LL: Yes. It was more of an experiment. I had been making this textile by hand sewing and, usually, I spend a lot more time drawing than sewing. So I just picked this one thing and ran with it, and I liked it in the end. I asked Bina if she liked it and she said yes. I don't know if that was real.
SD: What are your favorite processes and materials to work with?
LL: The outfit I made for Bina was made out of plain cotton. But I tore the cotton into strips and made little loops out of them and sewed them together. And I also used to work with paper a lot. Pretty much anything that is incredibly tedious and obsessive. I have obsessive-compulsive disorder. Until this year, that has really been a problem. But now I do these drawings that are just [lots of] lines filling out my sketchbook. They look ridiculous, but it helps.
Lucy Leith
Line drawings by Lucy Leith
SD: You led a weekly drop-in embroidery session at the Generator called Stitch and Bitch. Why embroidery? What was the motivation behind that program?
LL: Generator is a really wonderful creative space, and the idea behind maker spaces is great, but they end up being mostly for white men. Before February, our sewing and textiles program didn't exist. So my job is kind of to create that. I wanted to have more dialog around that, and the idea of a very historically feminine craft in this space that is full of men doing lots of techy things. And to create a safe space for women within Generator. I like embroidery because I think it's more comfortable to talk when you have something to work on.
SD: What objects, ideas or designers inspire you?
LL: It was really great to teach a pattern-making class. One of my students was Jude Bond, and she wanted to make soft rocks. She had sketchbooks full of drawings of rocks that didn't really have any dimension to them. She was like, these are really flat and have no perspective and I want to make them three-dimensional again. So that was really fun. I really like helping people realize their ideas.
Stella Marrs
was the maker-in-residence. I got to help her out with figuring out the pattern for her inflatable Disco Deployment Unit [now on display at the
Everson Museum of Art
in Syracuse, N.Y.].
Style Points is a biweekly blog about Vermont's designers, stylists, fashion mavens and textile-oriented entrepreneurs. We'll look at everyone from up-and-coming Etsy folk to independent designers to established apparel institutions. Do you fit the bill? Do you know someone who does? Email sadie@sevendaysvt.com.