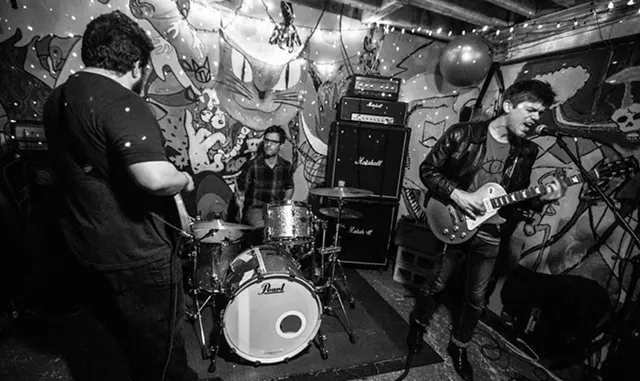 Noise Floor Photography
Death Pesos
The
Flynn Center for the Performing Arts
is exploring unknown territory with its new, evocatively titled free concert series, Exhibitionists. Starting Friday, July 7, and continuing on Fridays for the remainder of summer, a horde of mostly local rock bands will take over the
Amy E. Tarrant Gallery
for a sonic assault the likes of which have never been attempted in that particular space.
The series began when the Flynn Center's marketing content manager, John Flanagan, thought it would be fun — and convenient — if he could arrange to have all of his favorite local rockers put on a show just steps away from his desk.
Kari Hancock
Banana Schlitz
"A few months ago I was sitting in the Flynn's art gallery at a staff meeting thinking it would be good to be watching a rock show," Flanagan writes on the Flynn Center's
Tumblr
. "I passed a note to artistic director Steve MacQueen saying as much and with his reply — 'I have a PA' — a series was born."
Launie Kettler
The Mountain Says No
Aside from his tongue-in-cheek motivation, Flanagan also stresses the importance of engaging with the local music community:
"While internationally-acclaimed bands frequent the MainStage and FlynnSpace hosts the more fledgling fare, Vermont's vibrant local music scene hasn't had much of a presence within our walls until now."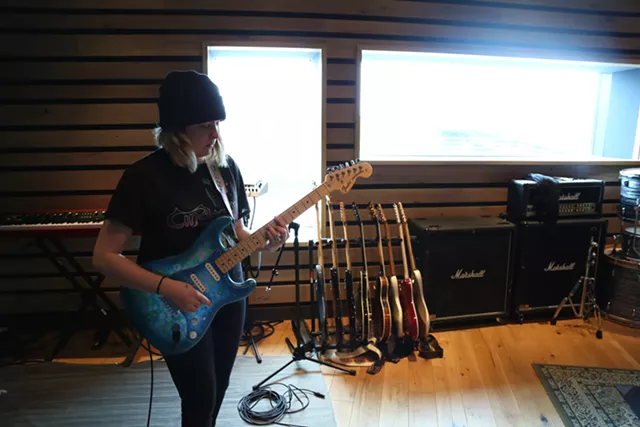 Brett Marshall, Windwood LLC
Diane Jean Reilly of Clever Girls
Live music has been performed in the gallery before, but only in a tangential way. The Flynn's director of marketing and communications Kevin Titterton recalls in an email to
Seven Days "
an experimental noise set in the gallery in connection with an opening by [painter] Larry Bissonnette." But this is the first time it will be transformed into a veritable DIY rock club.
James Tierney
Sleeping In
Exhibitionists kicks off with the ferocious, formerly local band
Death Pesos
. The Boston-based quartet are primed to bust an eardrum or two with its dark and gritty brand of rock.
The remaining installments include
Blue Button
side-project
Banana Schlitz
on July 14; Enosburg Falls malcontents the
Mountain Says No
on July 21; shoegazers
Sleeping In
on August 4; indie darlings
Clever Girls
on August 11; and Windsor-based hard-rockers
Carton
conclude the series on August 18. (Note: There is no performance on July 28.)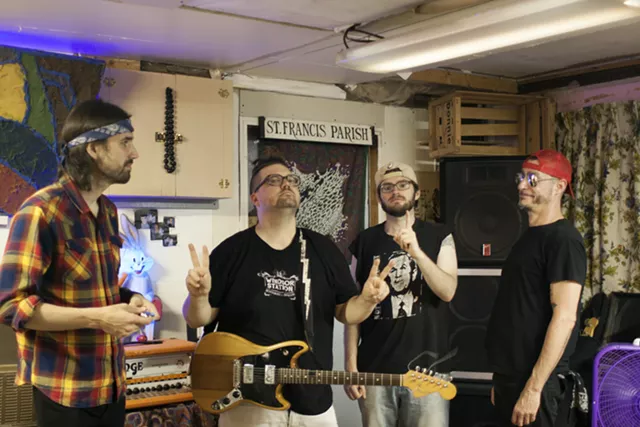 Taylor K. Long
Carton
The series promises to be a kick-ass way to jumpstart your weekend. Each show starts promptly at 5 p.m., with no opening acts and features a cash bar. Check out a selection of music from Exhibitionists artists below.