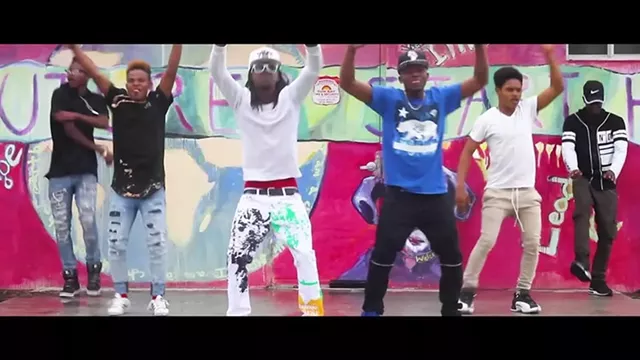 Courtesy of David Cooper
A still from A2VT's single, 'Ghetto'
When MG Man moved to the United States as a teen from a refugee camp in Tanzania, he thought it wouldn't take long for him to be rich.
"When we were in Africa, people tell us, 'If you go to America, you will find money in the ground
,
'" recalled MG Man, a member of the local Afro-pop duo
A2VT
. Some people, he continued, had other impressions of life in the States: "Yo, you're going to live next to 50 Cent."
The truth is, even people in the U.S. struggle to pay bills, noted Jilib, the other half of A2VT. While he might have escaped the war in Somalia and left his refugee camp in Kenya, he, just like millions of Americans, have to work hard to make ends meet, Jilib continued.
As for the rapper 50 Cent: "You've never going to see him," MG Man said, chuckling. "To see him, you'll have to pay."
This myth of abundance and illusion of wealth in the U.S. is the theme of A2VT's latest single, "Ghetto."
Typically, "ghetto" refers to an ethnic enclave. But it also can mean economically depressed areas. It's this wealth disparity between the rich and the poor that MG Man and Jilib address in their latest single.
"Born in a ghetto, raised in a ghetto / Come to America, still feeling ghetto," Jilib sings.
"It's sort of a Bernie Sanders message in a way," said manager and producer David Cooper.
Although the political climate wasn't on the duo's minds when they wrote and produced the song, prevailing anti-refugee and anti-immigrant sentiments around the country played a role when they decided to release the single.
The song, Jilib explained, is A2VT's way of assuring refugees that they're not alone in their struggles.
"Ghetto" is A2VT's third single and features lyrics in English, Swahili and Maay Maay.
Both MG Man and Jilib still have families in refugee camps and in their native countries. When they have explained the economic realities of life in the U.S., their relatives don't understand, they said.
"You find money in the ground and you don't even give us a penny," said MG Man, mimicking one of his relatives.
The music video for "Ghetto" was shot in four days over a period of about two months. Parts of the video were filmed at
Talent Skatepark
. The group got to know Hannah Deene Wood, the skatepark's owner, when they participated in a benefit fashion show for the
Vermont Refugee Resettlement Program
in March.
"Having a song called "Ghetto," it didn't make sense to show the beauty of Vermont," Cooper pointed out. "Because you're trying to make an urban feel to it."
The video also featured locations in Burlington and Winooski, including the Muhammad Ali mural on the side of Mawuhi African Market in the Old North End.
A2VT plans to release its second album at the end of the year. Cooper said they will look to release at least two other singles in the meantime. A2VT's next song, he promised, will be "upbeat" and "happy."
"Ghetto" is available on iTunes and
CD Baby
.