When Pat Laffin was four or five years old, she had a special box. If she was put in time-out, the New Haven artist and collector recalls, she would ask her parents for her box before retreating. Inside it were scissors, paper and glue.
Courtesy of Pat Laffin
"Light My Fire" by Pat Laffin
Laffin's love of ephemera, history and collage has expanded from a single box to fill her entire household — indeed, the 68-year-old self-identifies as an "obsessive collector." Her collection of collections seems to have its own character, alchemizing to form the kind of personal portrait that only beloved objects amassed over time can. "Everything grows out of its space and into another," Laffin said during a recent visit to her home.
Though Laffin has been collecting — and producing art from her findings — in various forms for pretty much her entire life, she has only recently begun to show her work. In 2015, she mounted her first public exhibition , "One Man Show," at
Tourterelle
restaurant and inn in New Haven.
Laffin's residency at the charming venue has since become an annual affair. Last year, she showed with
Lisa Condino
for "Roots." This year, she invited Bristol watercolorist and paper artist Gail Martin to exhibit with her for "Lost & Found."
Rachel Jones
Artist bookcover by Pat Laffin
Laffin's works are small-scale assemblage sculptures, forays into expressing endless combinations of her treasure. Purchases from antique shops, auctions and the internet mingle with vintage photographs, random hardware and components such as clock faces and hands, bingo chips, map pins and plenty more. Laffin keeps both her collections and supplies (with ample overlap between categories) meticulously organized within labeled cabinets, cases, boxes, binders and trays. She's kept a catalog of acquisitions since 1978.
Rachel Jones
Pat Laffin at her table
At her home, Laffin laid both hands on top of her big, solid oak work table, declaring, "I live right here." A gallon jug of Mod Podge sat on the floor nearby. While working, an assemblage by Jennifer Koch watches over her. It was acquired from the Burlington artist's 2008 show, "
Specimen & Marriages of Reason
," at the former Firehouse Gallery — now the BCA Center in Burlington. It is easy to see why Laffin would feel a kinship to this piece: bric-a-brac appears to be exploding from a woman's head.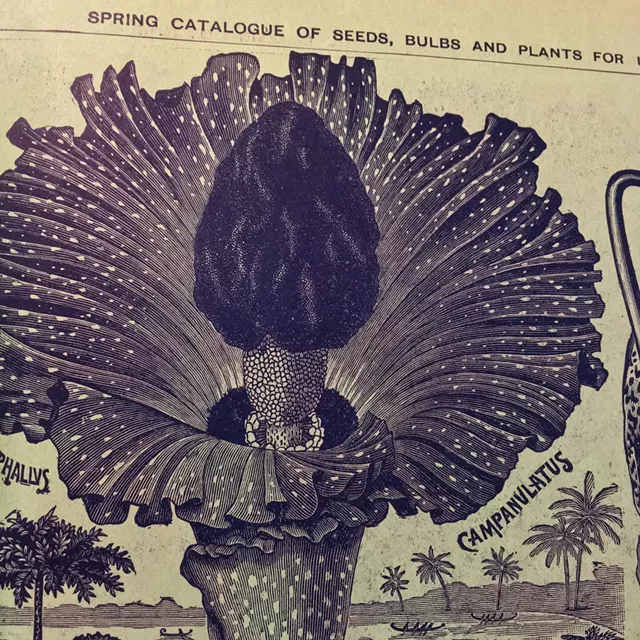 Rachel Jones
Illustration detail from John Lewis Childs seed catalog
"I used to sell one collection in order to afford the next," Laffin explained. Over the years, she's run a handful of booths at various antique markets and managed a successful eBay business as well. She has been the Vermont agent of the
Ephemera Society of America
(ESA) since 1998.
The collection that has perhaps brought Laffin the most recognition, though, is her extensive inventory of vintage seed packets. If her house burns down, she said, she knows exactly what she'll grab as she runs out: a meaty black binder just labeled "Seeds." Inside are brilliantly colored, intricately designed illustrations on seed packets and other seed marketing ephemera. Included among these are an original watercolor illustration and catalogs from the seed company of John Lewis Childs. Childs, the founder of Floral Park, NY, is credited with launching the first American seed catalog business.
Rachel Jones
Vintage tomato seed packets
"To have original art from a seed company is pretty rare," Laffin said.
A May 2003 article about Laffin in
The Antiquer
explains, "The lithographed flowers, fruits and vegetables were important marketing tools since the flowers' colorful potential was hidden within dull hulls and bulbs. The seed packets and collateral materials are now widely collected because they are brilliant examples of American chromolithography, sometimes using nine or ten separate colors to illustrate the plain paper wrappers."
Rachel Jones
J.T. Lovett seed ephemera illustration
Though Laffin's proclivities are many, her collections together exude a Victorian sensibility: More tends to be more, the ornate and the romantic is prized, sentimentality is high and botanical and natural specimens are semi- mystical objects to be celebrated, embellished and committed to history. For example, her decoupaged plates, which she has dubbed "Laffinware," emulate the collage craze of that era's hobbyists and homemakers.
If Laffin has a superpower, it's moving fluidly between her collecting and her art-making — one habit feeds the other. As she put it, "If I got locked in here for the rest of my life, I could do art every day."
You can follow the artist on Instagram at
@laffindesign
.
Special Collections is a blog about collections and collectors in Vermont, as well as the peculiarities and politics of material culture writ large. From institutional archives to your grandma's miniatures, we dig into how things become more than just things. Are you a collector? Have a tip? Email rachel@sevendaysvt.com.