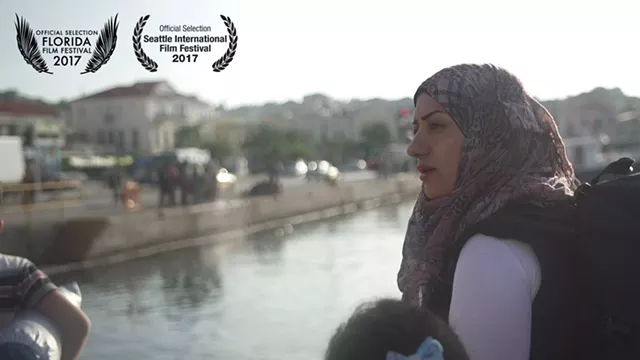 Courtesy of '8 Borders, 8 Days'
A still from '8 Borders, 8 Days'
In the summer of 2015, Sham decided to take life into her own hands. For 16 months, the Syrian refugee and her children had been living in Lebanon as they waited for their application to be resettled in the U.S. to be approved. Finally, Sham decided to make the journey that hundreds of thousands of her countrymen had already taken in order to start a new life after fleeing the war in Syria.
Sham put herself and her two kids on a flimsy raft to cross the Aegean Sea, before landing on the Greek island of Lesvos. Thereafter, they continued their journey by ferry, taxi, foot, bus and train to reach their final destination: the German capital Berlin.
As the family went in search of a better future, Amanda Bailly was with them to document their journey. Last night on World Refugee Day, Bailly held a screening of her 60-minute documentary film,
8 Borders, 8 Days
, at the Paramount Theatre in Rutland.
Bailly first met Sham in Lebanon, where she had been working as an independent filmmaker. When Bailly, an upstate New York native, found out that Sham planned to make the journey across Europe, she persuaded the former Arabic teacher to let her tag along.
"She agreed to make the film because she wanted Americans to see the kind of families that we missed out on welcoming," Bailly explained.
The screening was sponsored by the Rutland chapter of
Amnesty International
and
Rutland Welcomes
, a local group that has been supporting newly arrived Syrian refugees in the city.
Former mayor Chris Louras
, a strong supporter of refugee resettlement, gave the opening remarks to a cheering crowd of about 300 people.
Hunter Berryhill, a spokesperson from Rutland Welcomes, said the goal of the screening was to "raise awareness of the reality of being a refugee [and] finding a safe harbor." Critics would find it "hard to turn their back" on refugees if they knew their struggles, he continued.
Berryhill stressed that Rutland Welcomes is now focused on "working quietly and consistently" to
help their new Syrian neighbors
. The group has relinquished the political advocacy role that it took up when the issue of refugee resettlement dominated local politics. The point, he said, is to "move past politics [and] put people front and center."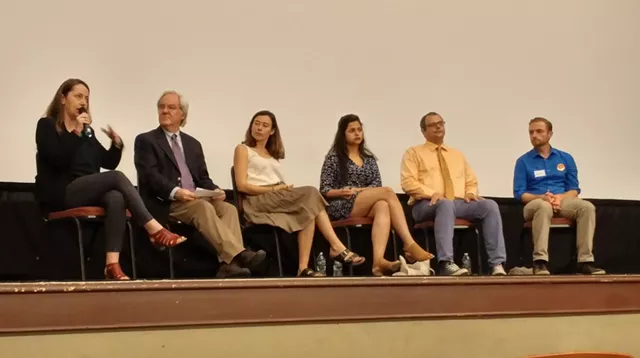 Nate Orshan
Members of panel discussion, left to right: Amila Merdzanovic, David Moats (moderator), Amanda Bailly, Sana Mustafa, William Notte, Hunter Berryhill
Bailly said the documentary has had "direct [and] immediate impact" on communities where it had been screened. Members of the audience offered to hire or tutor refugees; one person paid rent for a refugee family that had been evicted, she shared.
After the screening, Bailly and Berryhill were part of a panel discussion that was moderated by David Moats from the
Rutland Herald.
They were joined by Amila Merdzanovic, director of the Vermont Refugee Resettlement Program; Sana Mustafa, a Syrian refugee; and Alderman William Notte.
Merdzanovic, who arrived in Vermont from Bosnia as a refugee in the 1990s, said she had flashbacks of her own journey as she watched the documentary. Mustafa, who arrived in the U.S. about four years ago, shared that the fate of her father, who was detained by government forces, remains unknown, while her mother and two sisters are in Istanbul.
According to a press release,
8 Borders, 8 Days
​ premiered to sold-out screenings at the Florida Film Festival and Seattle International Film Festival. Bailly plans to organize more screenings across the country, both in communities with large refugee populations or anti-refugee sentiments.
"[Sham's] story, to me, is not the story of a refugee," Bailly said. "It's the story of a strong mother facing a really difficult predicament."
Correction, June 26, 2017: An earlier version of this story misstated the nature of Amanda Bailly's job in Beirut, London.