It's Monday, which means it's time for your weekly dose of locavore levity: the Joke of the Week! This week's joke comes from Winooski's Jared Hall. Take it away, Jared…
I am a relatively calm person, most of the time. But the other day I lost my shit. I mean, I was really freaking out: I went to flush and it just wasn't there.

About That Joke
Says Hall: I enjoy stupid, short jokes. And when in doubt, poop jokes always kill.
Meet the comedian, Jared Hall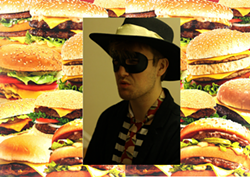 Courtesy of Jared Hall
Jared Hall
Jared Hall got his start in comedy last year after taking classes at the Vermont Comedy Club. He has an adorable dog named Carmen, and his biggest fear is the ocean. He is a 2017 finalist in the
Seven Daysies
readers' choice awards for "Best standup comic."

See Him Live
Hall hosts the open mic on Wednesday, July 5, at the Vermont Comedy Club in Burlington.
Think you can do better?
We're always looking for jokes from local comedians. We publish one joke each week, and you can read through previous ones
here
.