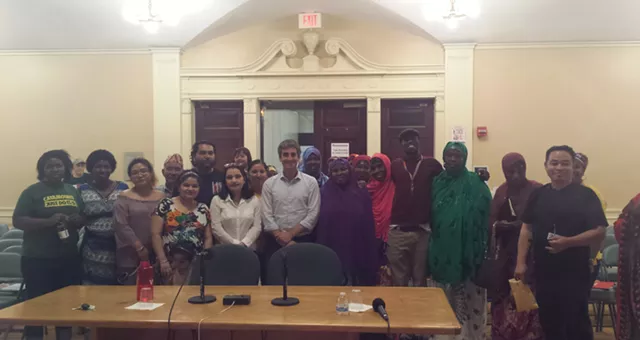 Kymelya Sari
Parent University students with Mayor Miro Weinberger at the City Hall
Parent University
students had a special tour of Burlington City Hall yesterday, where they met Mayor Miro Weinberger and representatives from city departments. The trip followed a workshop on local government that Phet Keomanyvanh, from the
Community and Economic Development Office
(CEDO), had conducted in April for the students.
Keomanyvanh and Parent University manager
Ali Dieng
organized the tour so that PU participants — all of whom are from minority communities — would be familiar with city hall and the services it offers.
"It's a way for us to be accessible to [the] people," said Keomanyvanh, who is CEDO's community development specialist-public engagement.
Weinberger addressed the students for about 15 minutes, during which he congratulated them on their imminent graduation. Representatives from
Parks and Recreation
,
CEDO Parallel Justice
,
Fletcher Free Library
,
Burlington Electric Department
and
Burlington Telecom
each gave a short presentation on the services that they provide.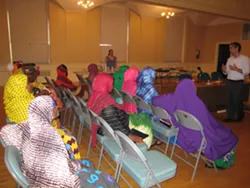 Kymelya Sari
Mayor Miro Weinberger addressing a question from Somali Bantu students
PU students were eager to use the meeting to make a case for their needs. Bisharo Kassim, the interpreter for the Maay-Maay speaking Somali Bantu community members, told Weinberger that language is a huge barrier for her community. Hence, many don't access services at city hall. They don't have a written language and as such, Google Translate isn't reliable, she explained.
Other students wanted to know if they can hold religious and birthday celebrations at parks. Some commented that it was their first time at city hall. "I didn't know people can just walk in," said one student.
The Burlington School District started Parent University in 2015 as a program designed to equip parents — many of whom are New Americans — with the skills and knowledge to become partners in their children's education and well-being. It will complete its fourth cycle on Thursday, June 15 with a graduation ceremony at the Flynn MainStage. All are welcome to attend.