Sadie Williams
Alex Cook in front of his Cherry St. mural.
Boston-based artist Alex Cook paints murals with a mission. His "
You Are Loved
" mural series, which began in New Orleans in 1997, aims to spread a message of positivity and acceptance through simple declarations of appreciation. He's painted over 120 murals bearing that slogan — among others — from Sacramento, Calif. to Natick, Mass. This weekend, Burlington was added to that list, thanks to Cook's new mural on Cherry Street.
The
U.S. Attorney's Office for the District of Vermont
invited Cook into town for the project. Aimee Stearns, a victim witness coordinator at the U.S. Attorney's Office, said she first heard about Cook's work through her niece, who is a friend of his.
This past Christmas, Stearns's niece gave her a set of blocks Cook had made bearing the words "You Are Loved." They were small, but had a big impact.
"I started thinking about the people I work with — the human trafficking victims," Stearn said. She started giving them to the people who would walk through her door. She would also place them on coworkers' desks when they were having a bad day.
But the blocks were only meant to be a one-off, a small gesture of appreciation. "I thought,
There's got to be something bigger
," Stearns shared.
When she saw Cook's past mural work on his website, she reached out.
"I [wanted] to do this as an education outreach for the community, so we can not only say to human trafficking victims, 'You are loved,' but really bring [the sentiment] to their attention," Stearns explained.
Last Thursday through Sunday, Cook invited the Burlington community to assist him in filling in the outline of large, swooping block letters spelling out the phrase "You Are Loved." All in all, he said, over 40 people put a brush to the wall. But Stearns estimates "hundreds of people" stopped by to thank Cook for the work he did.
"In terms of people stopping by, it's been insane," he said, adding that social media has helped, well, spread the love. "Church Street Marketplace posted it on their Instagram and we've had a lot of hits."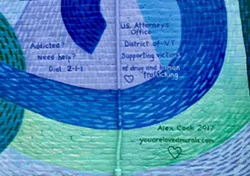 Sadie Williams
The "You Are Loved" mural on Cherry St.
On Sunday, Cook was putting the finishing touches on the mural. Among those details was a small note recognizing the U.S. Attorney's Office for "supporting victims of drug and human trafficking." The message also includes a note that reads, "Addicted? Need help? Dial 2-1-1."