Courtesy of Andy Gordon
Meredith Gordon
This weekend,
Off Center for the Dramatic Arts
in Burlington's
Old
North End wrapped its newly minted Spring Open Artist Showcase series. The
democratic
event included four new performances — two each weekend — selected by lottery.
The first weekend,
Vermont Playwright's Circle
performed five 10-minute plays. Those were followed by Joe O'Brien's "The Birth of Love: The Ballad of Miro Weinberger," performed by the Cosmic Noodle Improv Federation.
This past weekend, audiences were treated to two more theatrical debuts. "The Allegory of Flowing Water," written and directed by Martin Gil, and "Outpost," a one-woman show written and performed by Meredith Gordon.
Showcase organizer Laura Roald introduced the performances on Friday evening. "We work our butts off to make [this theater] as accessible as possible," she said.
Accessible it is — although not all of the performances were. Gil's "Allegory," which featured the theatrical stage debut of Julian Hackney of
Rough Francis
, is a rambling number that questions the concept of truth. Set in the woods, it features three strangers who met through a newspaper ad and decided to go camping together.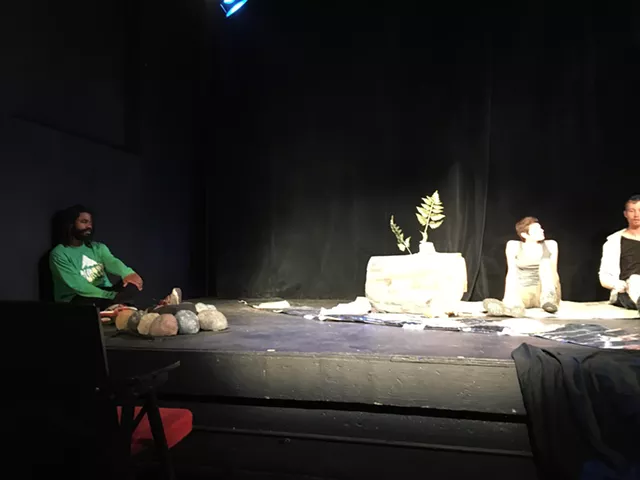 Sadie Williams
Julian Hackney, Kate Magill and Andy Sebranek in Martin Gil's "Allegory of Flowing Water"
Hackney plays Sam, a Burton call center employee with a stutter. Andy Sebranek made an
appearance
as Merrill, the slightly dickish man who placed the ad. Kate Magill plays Violet, a mysterious former addict who professes to have been hooked on intravenous drugs for only two years before miraculously setting aside needles forever. She's also prone to staring off into the distance while diving headlong into pseudo-philosophical tangents.
The play opened with about three minutes of darkness set to the sound of running water. This viewer found it very relaxing. Other theatergoers reported that it made them have to pee. While sometimes confusing and disjointed, the conversations that ensued among the three characters ultimately brought to light questions about the way we relate to one another, and the often unconscious ways in which we judge and assess the people we meet.
Gordon's one-woman show, however, stole the evening. It centers on Abigail Cutter, a woman struggling with parenthood in today's world. The lights came up on our protagonist rocking slowly in a chair at center stage. She clutched a baby to her brown overalls and glanced nervously over her shoulder as the sound of baying wolves wafted in from backstage.
Throughout the brief scenes that followed, we saw Abigail flash back to quitting her job in the city in hopes of giving her baby a better life. She said her husband, David, would teach them wilderness survival skills, that they would be fine.
In a tone that felt fitting for current events, Abigail said she didn't want to raise her son in a world where hate crimes and violence are the norms, where children don't truly know their parents, and the pursuit of an "ideal" life comes at the expense of familial and social bonds. She called today's society "a broken machine," and life in the Northwest Territories — where she's headed — "a chance at freedom."
What she finds there is anything but. After the loss of her husband, Abigail is left to fend for herself. Although her monologues are at times comical, the overall tone is one of desperation; Abigail is torn between a society she does not believe in and an environment where she cannot possibly survive.
The climax comes when Abigail, in pitch blackness, fires a gun at a wolf that has entered the cabin. It's the first time she has ever shot a firearm. The audience heard the struggle, the snarls, the bang. Then the lights came up on the new mother as she shoved supplies into a backpack, clutching her baby to her chest and stepping warily over an invisible wolf carcass on the floor. Finally, with her shotgun, baby and backpack, she left the cabin to the tune of "As Long as He Needs Me," sung by the character Nancy from
Oliver!
We couldn't feel good about our protagonist heading back to civilization — especially when the return is so blatantly compared to Nancy's refusal to leave an abusive relationship (the subject of the aforementioned song). But we also can't fault her. After all, a wolf has tried to eat her baby. And her. Torn between psychological and physical traumas — even deaths — what would you choose?