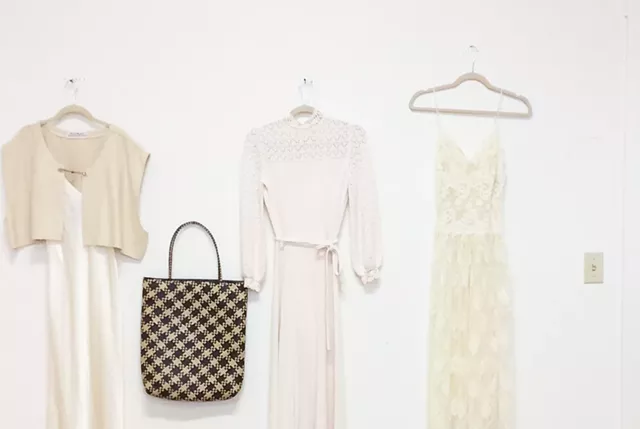 Sam
duPont
is the bright mind behind the carefully curated racks of
Project Object Vintage
, an apparel and accessory boutique that sells through Etsy,
Instagram
and frequent pop-up events and studio sales.
With a discerning eye, the Burlington-based entrepreneur has put together a collection of vintage clothing,
shoes
and accessories for a variety of body types and tastes. She gravitates toward natural fibers — think flax, linen,
silk
and cotton — but isn't opposed to the occasional synthetic fabric if the garment's cut is flattering.
But fashion isn't
duPont's
full-time game: The 34-year-old splits her time between farming and Project Object. She started the latter four years ago in November while living on Mount Desert Island in Maine. Like many seasonal workers,
duPont
was anticipating a long winter without a job.
Courtesy of Project Object Vintage
"I had no form of income," she says, "so I started my online shop. It did so well that I continued throughout the [farming] season."
Now
duPont
spends three days at the
Intervale Community Farm
, and her evenings and off days shopping, mending, photographing, listing and shipping items out of her space in Brickwork Art Studios off Pine Street.
She'll be in that space until the end of June; tenants received eviction notices in late April. While
duPont
looks for a new studio, she's holding frequent sales — in fact, one is today, June 11, 2-5 p.m.; another is Monday, June 12, 4-7 p.m.
Seven Days
caught up with
duPont
to hear more about how she's grown her shop, what she looks for in clothing and how in-person sales have affected her approach to business.
SEVEN DAYS: What do you look for when you're shopping?
SAM DUPONT: Materials are the first thing I look for when I'm scanning a rack — natural materials.
Then
I pull it out and examine it: Is it beautiful? Is it unique? Is it well made? And is it in good condition? Most of my pieces are from the '90s or before, but I aim to find things that are timeless and flattering. I don't want my racks to look like time capsules. I'm heavy on linen and silk and denim and leather, and I love a good, bold print.

SD: How many of your sales happen in person versus on Etsy?
SD: Etsy has been — for the past two years — the vast majority of my sales. But after moving into Brickwork, I had the opportunity to do a few pop-ups and some studio sales, so that only started in November. It's a pretty new aspect of the business, which has been really fun and I think is a better experience for the client, because they get to touch things and see [them] and try [them] on and be around other people for input.

SD: It was only in November that you started doing pop-ups ?
SD: Yeah, that was the first one down at Molly Conant's [
Rackk & Ruin
in the Soda Plant]. That was the very first pop-up I did, and maybe two minutes before it, all my racks collapsed, because they were totally overwhelmed with stuff, and I had never actually done it before. It was a little bit of a messy start.
Courtesy of Project Object Vintage
SD: How would you say your business has grown and changed since then?
SD: Having direct contact and feedback from the Burlington community [through studio sales and pop-ups] — I would say it's informed my buying [practice]. I feel pretty confident having a wide range of styles and
sizes,
because I can now see firsthand, when someone comes in, how the same garment can look so different on two different people. It's really fun to find something that doesn't necessarily fit me, or I don't have in mind for a particular person, but I know that someone will
love,
because it's well made and in good shape and really interesting.
It's fun to see people gravitate toward the pieces that suit them and walk out feeling really unique and confident and happy. So, I think now I just buy things really excited to see what someone else does with it. I don't think of myself as a style expert — telling people what to wear or how to dress. I feel like I'm giving people access to high-quality, reused clothing.

SD: Denim seems to be a focus for you. How do you go about finding quality vintage jeans?
SD: I did not go into this an expert, and the people I've found in the vintage community around here have been really generous with their knowledge, specifically Molly Conant and
Gypsy Vintage & Designer
[in Providence, RI]. They have been really fun to work with and really helpful and knowledgeable, especially since both have a lot more experience.
I do love when people give me their personal requests [for denim]. I'm always shopping with specific people's [styles and sizes] in mind. That being said, if I find great USA-made denim, I usually pick it up, especially if it has a unique wash, interesting wear marks and is 100 percent cotton — never with Spandex.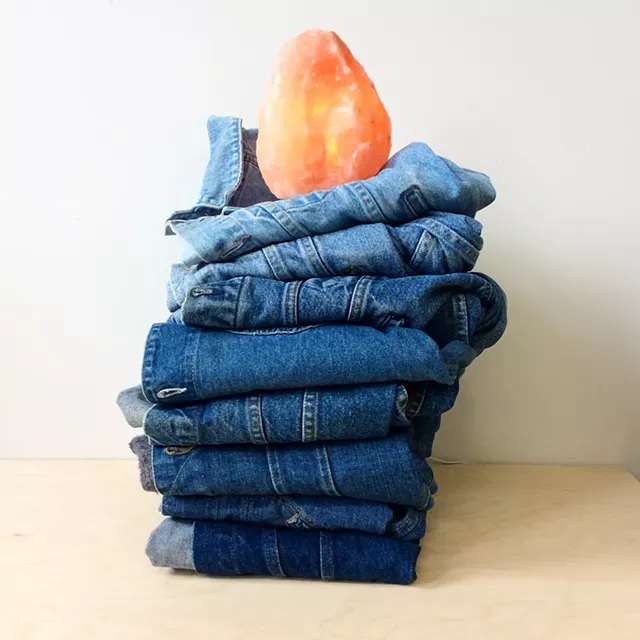 Courtesy of Project Object Vintage
SD: How often do you go out looking for new inventory?
SD: It depends on the season. I try to do it at least weekly, but my favorite adventures are long road trips where I go and explore different towns in New England and find hidden gems, even outside the state. My thrifting is my Zen time, so I go in and zoom through at my own rate and don't worry about anyone else. At this point, I'm pretty fast at scanning a rack. As insane as it sounds, I think the trick to finding the good stuff is to flip every single hanger, because, usually, it's the stuff that's hard to see that's been left behind. It's rare that a pair of vintage Levi overalls is just at the top of the rack.
SD: Beyond making ends meet with a side hustle, why do you do this?
SD: I grew up thrifting with my mom and aunt. They taught me that quality has nothing to do with the amount you pay for something. You can buy expensive things that are not well made, but, by the same token, you can find incredibly beautiful things [for less] if you take the time to look for them.
And so this project was an effort to help curb some of the overconsumption of cheaply made things by highlighting the already beautiful things that exist and are available in the world. You don't have to have a ton of stuff. Just a few pieces that fit you well, are well made and that you feel really great wearing.
Courtesy of Project Object Vintage
Disclosure: Sam duPont is the housemate of a
Seven Days
staff writer — not this one.
Style Points is a biweekly blog about Vermont's designers, stylists, fashion mavens and textile-oriented entrepreneurs. We'll look at everyone from up-and-coming Etsy sales folk to independent designers to established apparel institutions. Do you fit the bill? Do you know someone who does? Email sadie@sevendaysvt.com.