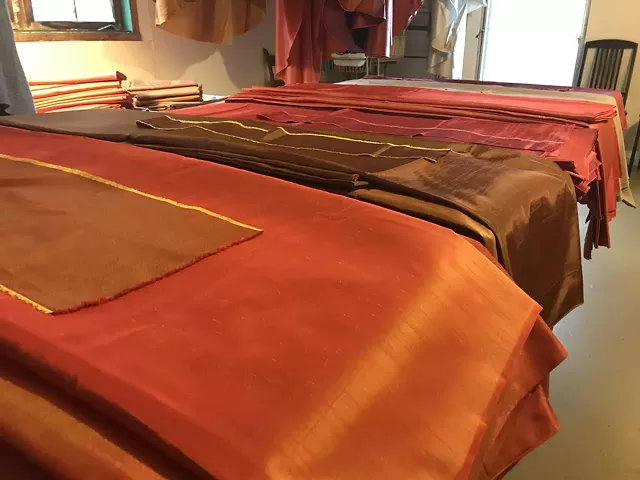 Courtesy of Burlington City Arts
Recently,
Burlington City Arts
posted a curious request for qualification on its website titled "
Saffron Fabric Design and Installation
." The project aims to find an artist, or group of artists, to create an outdoor fabric installation using 18,500 square feet of silk-lik
e
synthetic fabric for the annual "
Of Land and Local
" exhibit. The result will be installed in Burlington's City Hall Park and on the grounds of
Shelburne Farms
.
BCA has mounted installations in City Hall Park before, but this is "an unusual project," said assistant director Sara Katz. "It isn't necessarily a City Hall Park-specific project — it's about connecting two places. We haven't had one that feels quite this temporal," she noted.
Donor Martha Perkins has made the project possible. The octogenarian Charlotte resident discovered the fabric almost a year ago while volunteering at the Green Mountain Habitat for Humanity
Courtesy of Martha Perkins
Martha Perkins
ReStore in Williston.
"They were tablecloths," Perkins explained. "They are different sizes, but
huge
. I think Vermont Tent Company gave them to ReStore."
Perkins said she fell in love with the fabric as soon as she saw it but didn't know what to do with it. "Then one morning I woke up and said, 'Christo!'"
She was referring to Bulgarian artist Christo, who, with his French wife Jeanne-Claude, designed numerous highly ambitious installations around the world. (Jeanne- Claude died in 2009.) One of their projects consisted of 7,503 panels of saffron-colored fabric placed at intervals over 23 miles of paths New York City's Central Park. After decades of planning, the installation, titled "
The Gates
," went up on February 12, 2005, and remained on view for 16 days.
Perkins knew the fabric she found could be used for a large art project — if not quite as complex. To get the wheels turning in Burlington, she said, "I took a package of fabric, wrapped it up in a nice white box and left it at the mayor's office. And that got it started."
A mountain of textiles isn't Perkins' only gift to Burlington City Arts. She's also undertaken a fundraising effort with a goal of $20,000. Up to $15,000 of that will be given to the selected artist or artists to pay for time, materials and installation costs. Perkins has already raised $5,000.
Courtesy of Burlington City Arts
BCA is
accepting portfolios
until June 19. These will be reviewed by a panel consisting of artists, community members, BCA curators and Shelburne Farms staff. Katz said those panel members have not yet been selected.
The finalists will be announced on June 26, and their project proposals will be due on July 24. A winner will be chosen on July 31, after which the artist or team will have almost two months to complete the project. It will be installed September 18 to 22.
"Of Land and Local" will open at Shelburne Farms on October 5 and in Burlington on October 20.